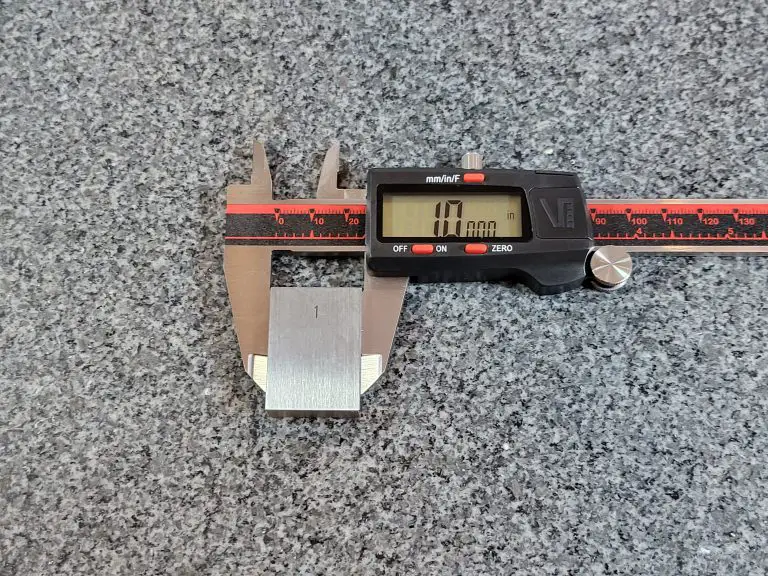 Pros
Great price
Has features not normally seen in its price range
Excellent customer service

The VINCA DCLA-0605 0-6" digital caliper is nice little measuring tool. It is made of stainless steel and is capable of taking measurements in inches, metric and fractional units with an accuracy of +/- .001".
The VINCA like many other calipers is able to take external, internal, step and depth measurements.
We tested those capabilities by measuring various size gauge blocks over the total measuring range of the tool and found them to be accurate to the manufacturers specs in all instances.
The DCLA-0605 comes with a large, easy to read display. One thing that does take some getting used to is that the first two digits are larger on the display. 
This allows the fractional units to be displayed. An odd choice when most will use the caliper in either inches or millimeters, but definitely not a deal breaker.
The VINCA caliper comes with an LR44 button cell battery installed along with  two spares. While the battery life isn't as good as something like a Mitutoyo, it isn't awful either. The caliper has an auto shut off feature for the display when not in use which helps it from draining all the juice.
The screen also flashes when the battery is low to let you know it's time to swap batteries. Some digital calipers have been known to behave strangely when their batteries are low so this is a welcome feature.
The DCLA-0605 comes with a protective case which is a nice bonus that some cheaper digital calipers don't have. 
Another feature not commonly seen on lower priced digital calipers is an RS232 port.
This will allow you to hook your caliper up to a computer to record measurements. It is worth noting that you should NEVER try to use a USB cable to hook the caliper up to a computer as this can cause the battery to explode. There are warnings all over the case and on the backside of the caliper to remind you.
Make sure to use the manufacturers recommended cable to connect your tool.
This VINCA caliper comes with a 1 year warranty and it is worth noting that by all accounts the company's customer service is excellent. Considering my caliper arrived with some rust on the backside slot where the depth rod sits, that is probably a good thing. 
I am not planning on testing it for a budget level caliper, but they are noted as being quick to respond and offer solutions to any issues that are encountered. Maybe if there had been issues with the accuracy as a result.
The overall build quality of the tool is good. It isn't the smoothest sliding caliper I have used but it does slide freely and it doesn't catch or hang up at all. 
The fine adjustment wheel works well too and helps make those critical measurements as accurate as possible.
The VINCA DCLA-0605 digital caliper is an excellent budget tool. It has accuracy on par with other calipers in its price range.
The addition of a nice protective case, a couple extra batteries and an RS232 port make it a great choice especially for those looking to record their measurements directly to their computer.
The 1 year warranty and noted excellent customer service make this VINCA caliper a great budget friendly digital caliper.
For more information check out these related articles: