What we consider in our review
Accuracy is the single most important feature of your digital caliper. 
They are measuring tools and they need to measure correctly.
The accuracy is the ability of the caliper to give the true value of a given measurement.
The accuracy of the best calipers is usually +/- .001.
Cheaper alternatives will have an accuracy between +/- .002″ to +/- .010″. For some this may be fine, but it will depend on what level of accuracy you need for your project.
I also recommend that you do not blindly trust the claimed accuracies touted by the budget manufacturers. If Starrett or Mitutoyo specify an accuracy level, you can trust it but this is not the case 
Keep in mind the type of tolerances you will be working with to help you decide how accurate your caliper needs to be.
The measuring range of the caliper is another one of the most important aspects of any digital caliper. 
You need to make sure that it will cover all the measurements you will want to take. 
0-6″, 0-8″, 0-12″ and 0-24″ are some of the typical measuring ranges. 
0-6″ is the most common size of caliper. 
Measuring sizes over 6″ are less frequent. 
A 0-6″ caliper maintains a nice balance of measuring range and ease of measurement. 
As the measuring range of a caliper gets larger, it becomes more difficult to use. 
Using a 0-24″ caliper to measure a 1″ hole diameter would be quite difficult. 
Even if you require the ability to measure larger sizes, you will want a 0-6″ caliper for many measurements because of its ease of use.
The display on your caliper plays an important role in how easy it is to use. Being able to quickly read your measurements will save you time in the long run. 
Let's be real, some of us don't have the best eyes. Larger displays make getting your reading simpler. This is one area that digital calipers have a nice advantage over dial calipers. The dial and indicator needle can be hard for some to read on your average dial caliper.
The best displays have large uniform digits as shown on the Mitutoyo caliper above.
Most digital displays are capable of showing measurements in inches as well as millimeters. Some calipers will also read measurements in fractional units. 
Fractional units are generally not the best way to take measurements because the displays don't round and instead will display a measurement of something similar to 53/128″. That isn't a very helpful way to display the data. If the display rounds to something useful such as 1/16 or 1/32 it would be more useful but most don't.
Battery life should be a prime consideration when examining the quality of a digital caliper. 
An auto on and auto shut off feature can greatly extend the longevity of a calipers battery life. 
The best digital calipers will have battery life that is measured in months or years. Most of the budget options available have much shorter battery lives. If you go the budget route with your caliper, make sure to keep some extra batteries on hand and maybe think about taking the battery out when the tool is not in use.
Good battery life means the caliper will be ready to use when you need it.
Ingress protection rating or IP rating for short is the amount of resistance a device has to things such as dirt and water. 
Many digital calipers have no protection rating at all.
For the ones that do, IP54 is the most common rating. This equates to limited protection from dust and protection from splashing water which will be more than most users require.
The less frequent IP67 rating is excellent and means they are almost impervious to everyday dirt and water.
Keep in mind though that IP ratings don't protect the tool from physical damage such as being dropped.
The chart below outlines how protected a tool is. The first digit in any IP rating is for the solids protection and the second digit covers the protection from liquids.


For most applications you will want to get a caliper made of stainless steel. Other materials available include carbon fiber composites and plastic. 
While tools made of carbon fiber and plastic are generally not as nice in quality as those made of stainless steel, they do have some benefits. Carbon fiber and plastic calipers are less likely to scratch or damage softer materials such as wood or plastic. 
Stainless steel calipers tend to have sharp jaws that can scratch some materials but if you are careful in their use, there shouldn't be any issues. Carbon fiber composites and plastic also have the benefit of being non-magnetic.
Some calipers are sold with a calibration certificate for a decent upcharge. Skip it. The tool should be accurate when purchased, regardless of whether it comes with a certificate or not.
The best practice is to verify the accuracy of the caliper when you receive it. Check the tool against a known standard such as a set of gauge blocks. At a bare minimum, verify the zero position before using your gauge.
A case is an important accessory for a digital caliper. These are precision measuring instruments after all and all too often they get knocked off a workbench or dropped by a careless coworker. 
Keeping them in a case will add a layer of protection to help keep them safe. Cases come standard with calipers from the the best toolmakers such as Starrett, Mitutoyo, Fowler and Brown and Sharpe. 
They do not come standard for cheaper tools so keep that in mind when looking at those budget friendly options.
An RS232 port can be a handy addition to your caliper, but is certainly not a necessity. A RS232 port allows the transfer of data/measurements from your caliper to your computer.
For most users this is an unneeded feature, but for some applications it can be handy to record the data directly to your computer.
Now that you know what we consider when reviewing the best calipers, let's find out who is making the best in class calipers. 
Spoiler: there's someone new on the list
Mitutoyo 500-196-30 Digital Caliper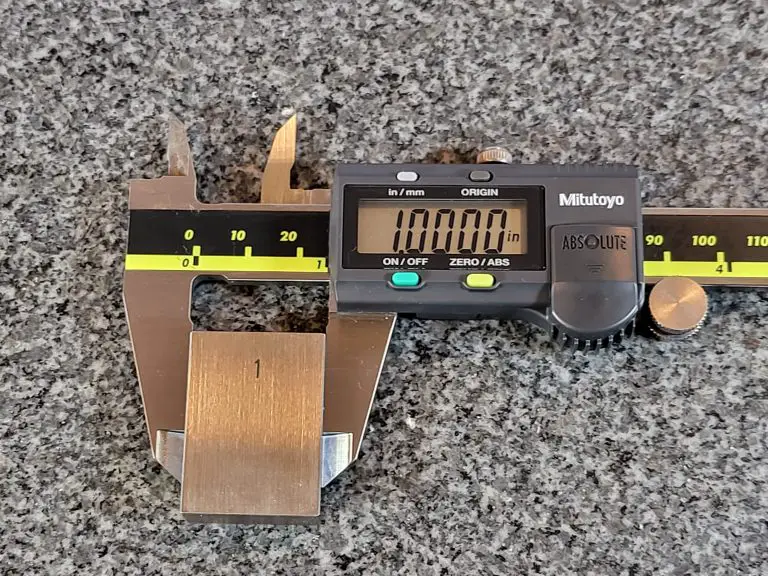 Pros
Accuracy
Dependability
Battery life

Accuracy: +/- 0.001"/.0254 mm
Measuring units: Inches, mm
Warranty length: One year
Battery used: 1 SR44 (included)
Amazing accuracy, excellent battery life and protection from dirt, water and oil. Mitutoyo makes a digital caliper that is everything you would want in a precision measuring tool.
These calipers from Mitutoyo are a reliable and consistently accurate measuring instrument. Perfect for reloading, engine work or every day use in a machine shop. 
Basically, Mitutoyo has set the standard for what a digital caliper should be and maintained that standard for a long time. In fact, if you can find a used set do be afraid to pick them up. 
These calipers are heirloom quality.
That isn't something you would normally say about something electronic, but these digital calipers from Mitutoyo break the mold and are built to last.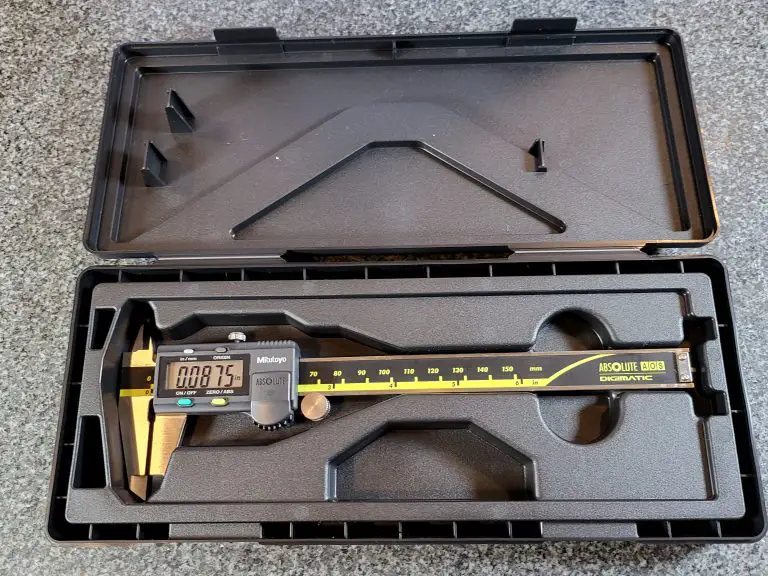 Everything about these calipers is well-made.
Quality stainless steel frame
Solid plastic body
Buttons that just feel nice and are easy to use
Large, easy to read LCD display
Better battery life than any other caliper I have seen (Mitutoyo claims 3.5 years – it might be longer)
Combine these things with the dependable accuracy and you got a tool that is truly best in class.
VINCA DCLA-0605 Digital Caliper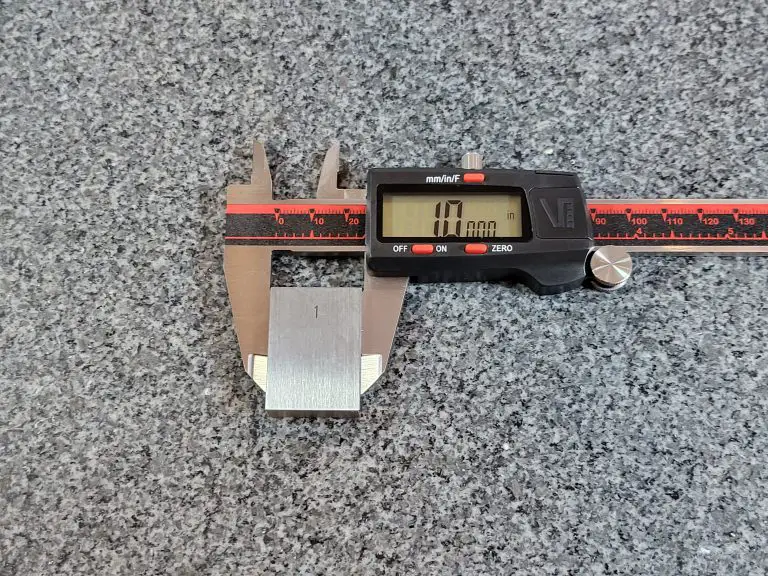 Pros
Price
Customer service

Accuracy: +/- 0.001"/.0254 mm
Measuring units: Inches, mm, fractions
Warranty length: One year
Battery used: LR44 (included)
If you're just getting into machining and you're a bit nervous about dropping a lot of money on a high-end caliper like the one above, then this budget-friendly VINCA just might be the tool for you.
First and foremost, it's a very accurate caliper for the price, with an accuracy of +/- 0.001″/.0254 mm. These are measuring devices after all. They need to be accurate.
While it is made of stainless steel, you'll also be happy that this caliper comes with a heavy-duty case to keep it protected at all times when it's not in use.
The LCD display face is fairly large, however you should note that the way the values are displayed is a little awkward, especially when measuring in inches. It appears VINCA did this to allow fractional measurements.
This isn't something that is a deal breaker but worth noting because some of the numbers you will be reading are only half the size of the screen.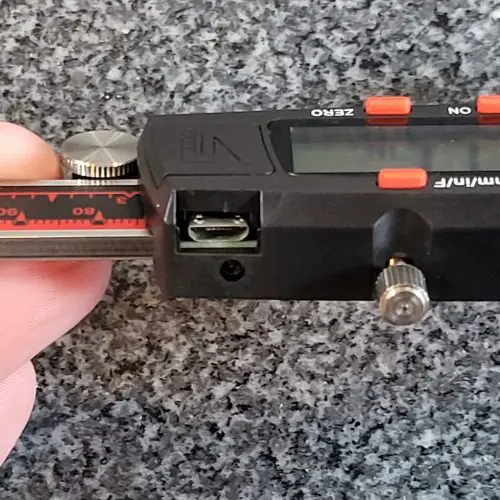 Battery life is good on these VINCA calipers. Take note that they automatically turn on when the caliper moves which can cause them to drain the battery faster even when not in use. Using the lock to gently keep them in place will go a long way towards extending your battery life and keeping them ready to use when you need them.
An excellent bonus feature of this caliper is the RS232 port which allows you to plug the caliper right into your computer. This is something that is rarely seen with budget priced calipers.
Digitally transferring readings can be super helpful, because it's so easy to fat-finger a measurement if when entering them manually. 
Overall, these VINCA digital calipers are a great value for the price. They aren't quite on the same level as some of the higher end measuring tools but they make an excellent starter set that doesn't break the bank.
Starrett 798A-6 0-6″ Digital Caliper

Pros
Protection from the elements
Accuracy

Accuracy: +/- 0.001"/.0254 mm
Measuring units: Inches, mm
Warranty length: One year
Battery used: CR 2032 3V (included)
It's tough to do a review about calipers and not include anything made by Starrett. Starrett is an industry leader, and for decades has carried a solid reputation for making incredible products.
This heavy-duty digital caliper from them has an accuracy of 0.001″, or 0.254 mm and a resolution 0.0005″ or 0.010 mm. Exactly the type of precision you would expect in a quality measuring tool.
When it comes to build quality, the stainless steel bar of this caliper is designed to last just like many other Starrett tools and the case it comes with only helps to extend the life of your caliper by keeping it safe when you're not using it.
This display is easy to read and quite large. The buttons work as designed and overall the 798A-6 functions exactly as intended and just feels very well built.
However, the real reason you'll want to buy this caliper is because of how rugged this thing is.
The 798A-6 is rated IP67. IP stands for ingress protection. This is a measure of the amount of resistance a device has to dirt, water, and other contaminants. For a full breakdown of IP ratings, see our rundown in the Things to Consider section.
Just know that most digital calipers, especially lower priced models, often offer no IP rating at all. The better models that do offer some form of IP rating are usually rated IP54. The IP67 rating of this Starrett is a significant jump up in protection.
One thing to keep in mind is that the IP rating doesn't protect against damage from drops or other physical damage. You're going to still need to treat it carefully. But let's face it, we aren't always working in the most pristine environments.
While the added protection that the Starrett caliper offers is welcome, it does come at a cost. Mechanics and machinists have known for a long time the value of a tool that can withstand a little abuse. Whether that is necessary for you situation is something you will need to decide.
I can't say that I know of anyone who has regretted spending the extra to step up and get a tool from Starrett.
iGaging IP54 0-6″ Digital Caliper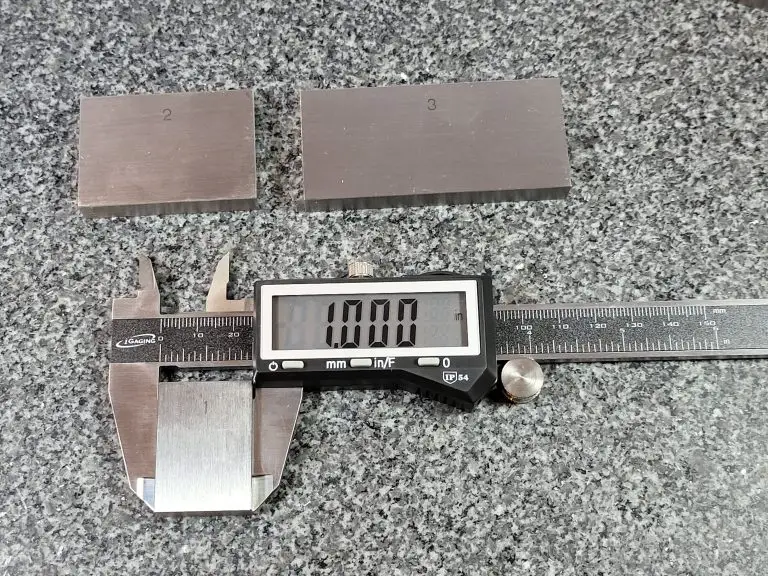 Pros
Large display
IP54 rated

Cons
No auto power off feature
Accuracy: +/- .001"/0.02mm
Measuring units: Inches, mm, fractions
Warranty length: Two years
Battery used: CR 2032 3V (included with spare)
While they are a budget tool manufacturer, iGaging has been around awhile and made quite a name for themselves providing decent tools for a much lower price.
Made of stainless steel, this iGaging caliper has an accuracy of +/- .001" or .02mm, and a resolution of .0005" or .01mm which is directly in line with the capabilities of higher priced tools. Fractional measurements are taken in increments of 1/128″
We tested the accuracy and it performed wonderfully reading spot on in all inside, outside and depth measurements taken across the measuring range. It even comes with a calibration certificate. Most budget priced tools skip this.
This is a solid set of calipers, especially for the price. The LCD display is large and skips the weirdness that other calipers such as the VINCA DCLA-0605 has because of the fractional units.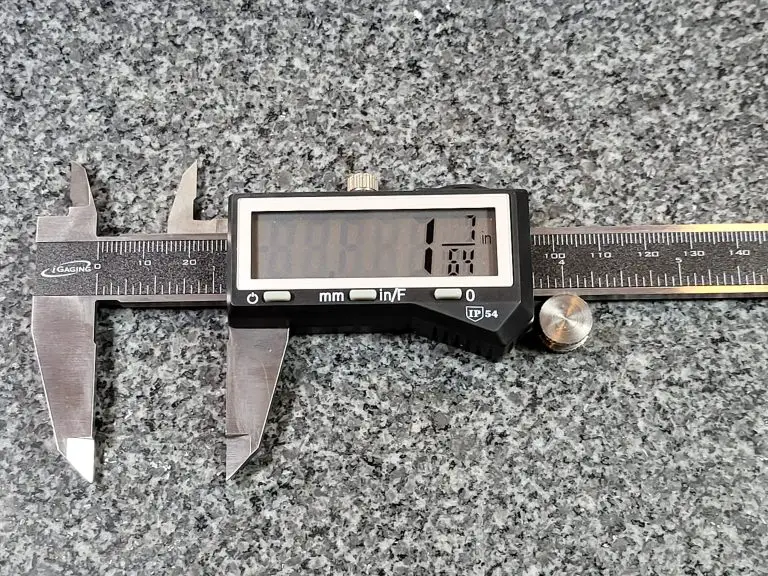 But the real standout feature of this caliper is just how tough it is given its price. The iGaging caliper has an IP54 rating, which, as we mentioned earlier, is the average rating for calipers with an IP score.
However, given the price point, this is a very uncommon feature for calipers in this price range. Most will have no IP rating at all.
Being a budget caliper, but still offering protection from dust, oil, water, and other contaminants is what sets this caliper apart from others in its class.
Another nice thing about this caliper is the 2-year warranty. You'll notice that a lot of the calipers on this list are given a 1-year warranty which is still higher than the average warranty. 2 years provides quite a bit of assurance that the caliper will function for a good long time.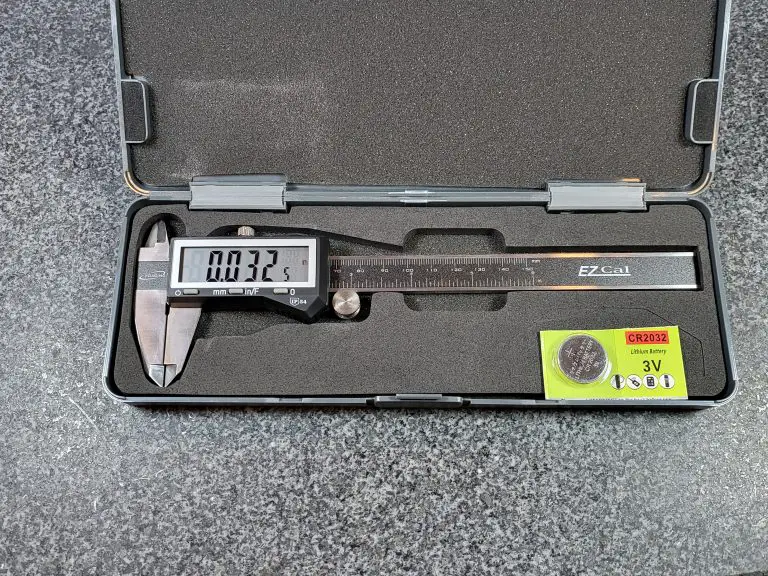 One small drawback of this caliper is that the on/off power function is manual. What this means is that you need to remember to hit the power  button every time you are done using it or else you'll drain the battery. Many digital calipers will feature an auto off feature to extend the battery life.
Overall, the IP rating this tool has offsets any issues with battery life. iGaging has done a great job of making a budget priced tool that stacks up well in most areas against some of the most well known measuring tool manufacturers.
Mitutoyo 500-754-20 0-12″ Digital Caliper

Pros
Large measuring range
IP67 rated

Accuracy: +/- .0015"/0.0385mm.
Measuring units: Inches, mm
Warranty length: One year
Battery used: 1 SR44 (included)
We've included another Mitutoyo caliper on this list because this caliper is a bit different than the other one. For one, it's got a much larger measuring range, going from 0-12″.
While measuring above 6″ is less likely, especially for beginners, this caliper gives you the option for larger measurements when needed.
Keep in mind that you wouldn't want this as a replacement for a 6″ caliper, instead larger calipers such as a 12 or 24″ model will get used in addition to a 6″ caliper.
There are situations where you might need to measure something larger and the 6″ caliper just won't do. But anytime you are measuring a smaller size, a large format caliper such as this will be difficult and awkward to use. Not to mention it won't fit into tight spaces well.
You should also take not that the accuracy is slightly reduced because it needs to maintain that accuracy over a larger measuring range. This caliper has an accuracy of +/- .0015″/0.0385mm which is pretty good. 
You will find that some of the budget tool makers will spec their 12″ digital calipers with an accuracy of +/- .001″, which on paper looks like they are better than this Mitutoyo. In reality, they are often far worse than that. This is especially true if you move up to a 24″ caliper.
The Mitutoyo 500-754-20 comes with a whopping IP67 rating, meaning it's super water and dust resistant. Having that level of protection on a tool that costs this much is important because you wouldn't a splash of coolant or oil to destroy your prized measuring tool.
While it's an expensive tool, if you have bigger projects that you plan on working with, then it's well worth the money. And, as we touched on earlier, Mitutoyo is a premium brand in the industry, so if you do pull the trigger and decide to buy this caliper you won't be disappointed in the quality of the product.
If you must go the budget route with a large range digital caliper, then be extremely aware of the accuracy you need and what the tool can actually provide. They might not line up.
I know everyone doesn't have unlimited budgets so if you need to keep costs down, think about looking for a used Mitutoyo or Starrett digital caliper (good luck) or maybe going with a good quality dial caliper instead. Remember, that your large calipers are going to see much less use than a standard 6″ version.
All in all there are a lot of choices available nowadays when it comes to digital calipers and they are not created equal. 
Mitutoyo and Starrett lead the pack but they do come at a cost. 
Tools that have IP protection will help them last but may not always be a necessity for each user.
For smaller 6″ calipers, you can get a serviceable option that will often get the job done at a fraction of the cost. 
When it comes to larger calipers, don't believe the claimed accuracy on those budget tools. 
For more information check out these related articles: