Why do they have to make so many cool toys for adults?
Actually, I suppose it's not the toys that are the problem, but instead it's the cost of the toys.
Luckily if you recently purchased a 3018 series CNC such as the SainSmart Genmitsu series, MYSWEETY or one of the numerous other manufacturers out there, there are some relatively cheap or homemade upgrades to trick out your new machine.
Check out our list below to find out how to improve your 3018 CNC without breaking the bank.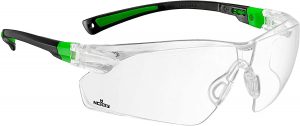 First and foremost, you should make sure you have a quality set of safety glasses. While these are small machines that are not as high powered as industrial CNCs, they are still dangerous.
Read your instructions. Wear safety glasses and it's a good idea to have ear protection too.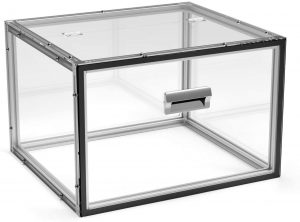 An enclosure is one of the best upgrades for any hobbyist CNC. These machines can create a lot of dust and noise. It is a good idea to reduce both, especially if running the machine in your normal living area.
The enclosures are pretty straight forward. Assemble the box and place it over your machine to start reducing the volume of dust and noise created by your CNC.
If you have a 3D printer and are so inclined, it is possible to construct your own with some PLA, pieces of plexiglass and a little elbow grease.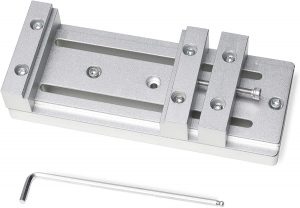 Larger CNCs use a machinist vise to hold the workpiece. This vise is a smaller version for the 3018 series of CNC machines. They work great to secure a variety of materials.
This tool is especially useful for holding parts which are an unusual shape such as jewelry or some electronics.
Many different forms of work holding are available such as clamps and T nuts but a vise is a simple way to hold a large assortment of material. Compared to other types of workholding, a vise will decrease setup time and increase productivity.
Upgraded router bits and end mills are an important addition. 
But not every type of bit is worth buying. 
Check out our Beginner's Guide to CNC Router Bits to figure out which ones you need to get started and which ones are fun toys for later on.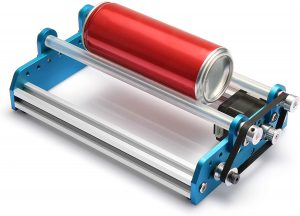 The 3018 series of CNC are capable of laser engraving but for anyone looking to laser engrave cylindrical objects such as cups, tumblers, etc. this is the perfect solution.
The rotary engraving module will allow you to rotate the workpiece to allow the part to stay in the lasers ideal path. This will allow uniform engraving of the workpiece around the circumference of the engraved piece.
This isn't an upgrade for everyone but if you have a specific application in mind which requires laser engraving a circular object then think about checking out this upgrade.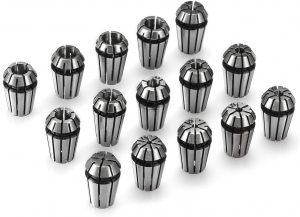 Different collets are a great addition for a 3018 series CNC. They allow you to use many different size bits or end mills to machine your workpiece with. At the bare minimum it would be wise to consider adding a ¼" ER11 collet. For a little more you can get a set that will allow just about any bit or end mill that you would want to use.
There is no need to break the bank on ER11 collets for a 3018 CNC. The added quality and reduction in runout won't translate to a big difference in quality for your projects. A simple set is the best choice.
Z axis touch setting probe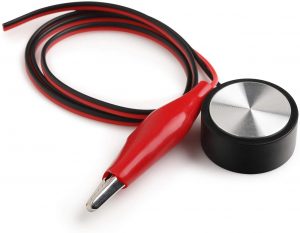 No one likes setting Z axis heights with paper. It feels imprecise and clumsy. Luckily, there is a simple and cheap upgrade which will allow you to make the process simpler and more accurate.
The probe is very easy to use. First connect the probe to your control board. Now measure the height of the probe with a tool such as a digital caliper or micrometer.
The thickness of the probe now needs to be entered into the CNC software. Place the probe on the workpiece and then connect the clip to the cutting tool. Run the probing program and lower the cutting tool slowly until it contacts the probe. The Z axis will now be set.
For more detailed instructions check the manufacturer's website, they have a nice tutorial.
You can make your own if you wish but for the price it is hard to justify messing with a homemade tool.
If a homemade tool is more your speed then check out this tutorial which will walk you through creating your own Z axis touch setting probe.
The cost of the homemade tool is close to the cost of an actual probe but you might have some of the supplies on hand already which will bring the cost down.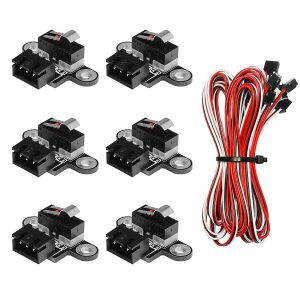 Limit switches are a great addition to a 3018 CNC machine. Without them it is all too easy to crash your machine. While crashing the machine won't always cause damage, it is a definite possibility.
Honestly, the machines should all come with limit switches to protect the machine from damage but I am sure that the manufacturers are trying to keep the cost down as much as possible and therefore did not include them in some versions of the 3018 CNC.
The 3018 series of CNC machines are pretty budget friendly but that doesn't mean you want to scrap the machine right away.
Take note that adding limit switches will reduce your work area by a small amount. While this is unfortunate, it is definitely a recommended upgrade to protect your machine especially at the relatively small cost of the upgrade.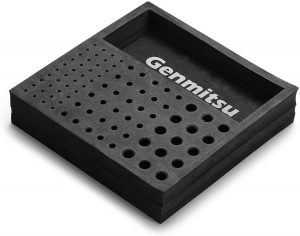 As you gain more experience with your CNC machine, it is inevitable that you will develop quite the collection of bits and end mills. A good storage solution is a must to protect your bits from damage.
The storage tray has holes for many different sizes of bits and end mills along with storage for miscellaneous other tools. The tray from Genmitsu does a great job of organizing all the little odds and ends along with your cutting tools.
If you have a 3D printer then check out Thingiverse for storage trays. You should be able to find something similar that will meet your needs. If you don't have a 3D printer then you might be able to find something that will work at the dollar store.
The important thing is to keep your tools organized and protected so that they will remain sharp and ready for your next project.
Wire and cable protectors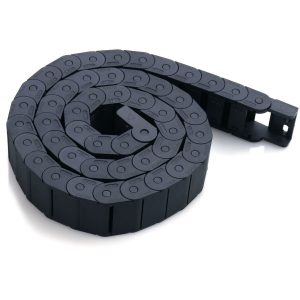 Those with experience working with a 3D printer will likely recognize the value of a good wire/cable protector. This is often one of the first things printed when someone buys a new 3D printer and for good reason.
The movement of the machine back and forth in the process of cutting or engraving means that there is some risk that the wires will snag on some portion of the machine. The cable protectors will keep this from happening.
If you have a 3D printer already, take a peek on Thingiverse to see if there are any plans or find a premade alternative somewhere else like Amazon.
Bonus tips for your 3018 CNC
One great way to hold down projects that are difficult to secure for all types of reasons is to place blue painters tape on the bed and the workpiece. Now use an adhesive to glue the two sections of painters tape together. The tape and glue combo will hold the part and once you are done, you can simply peel the painters tape off.
3D printed holding fixtures can be a great addition and allow more versatility in what you can machine. Check out Thingiverse for all kinds of 3D printed addons.
Use felt furniture sliders from the dollar store with clamps or t nuts to protect surface of delicate workpieces.
If you have any additional tips you learned experimenting with your 3018 CNC please let us know and we will happily share them here to save others some of the headaches that come with learning how to work with a new machine.
For more information check out these related articles: