If you're looking to impress some folks at the next tailgate or house party with a sleek homemade cornhole set, then Bob's Evolution 4 CNC Router might be right for you.
A favorite among hobbyists and woodworkers who are looking for a machine with a bit more torque than other entry-level CNC machines. BobsCNC Evolution 4 CNC router is a solid choice for getting started in CNC woodworking or stepping up from smaller CNCs such as the 3018 series of CNC routers.
Check out all the nitty gritty details that make this machine so good below.
| | |
| --- | --- |
| | |
| | |
| | |
| | |
| | |
| | |
| | |
| | Wood, Plastic, Aluminum, Acrylic, PCB, Leather & More |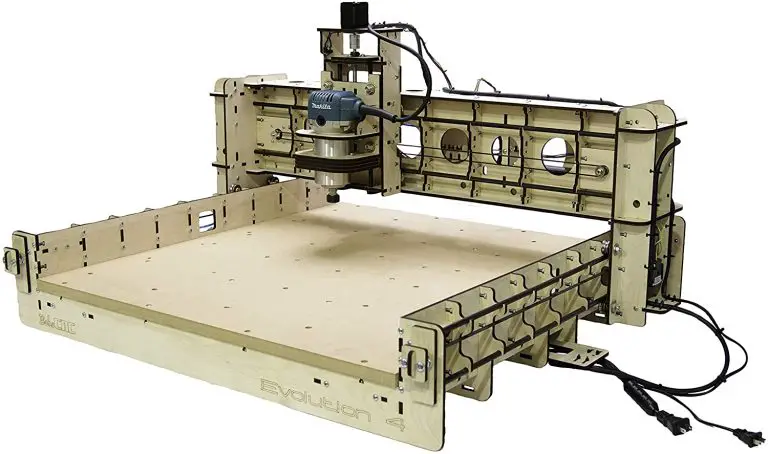 Pros
Large work area
Excellent customer service

The Evolution 4 is fairly heavy-duty. The added power means it is capable of cutting a wider range of materials, including soft aluminum, leather, and of course, wood. Some of the less capable machines struggle with harder woods and are outright incapable of working with aluminum. More power in your CNC router will always be a good thing.
Speaking of capabilities, another area in which the Evolution 4 stands out from the competition is the size of the work area. This determines the size of the project you can machine. To get to that larger work area is going to take some assembly though and it might take a little while.
One thing worth noting if you're considering the Evolution 4 is that it takes some time to get set up. Unlike many other CNC router kits, the Evolution 4 does not come pre-assembled at all. As a result, you'll want to carve out a solid day to complete the build.
For many people though, assembly is part of the fun. Putting everything together yourself will get you intimately familiar with the machine itself, the parts and how they all work together. Understanding how your machine moves and is setup will benefit you in the long run. You will have a better idea of what might have gone wrong when your machine crashes. Trust me, it's gonna happen eventually.
The last thing to note about the assembly is that while it may be time consuming, the instruction manual is extremely thorough. Still, if you run into any trouble, there are a ton of great YouTube videos that can help guide you through the process. 
Once you finally get the Evolution 4 together you'll notice just how much bigger this machine is than most other entry level machines. A few inches in each direction can make a large difference in the projects you are capable of working with. While the two may not be all that much different when we're talking about technical specs, the work area of the Evolution 3 is only 16″ x 18″ (still larger than most entry CNCs), while the Evolution 4 is 24″ x 24″. 
Let's do some quick math. 16 x 18 = 288 square inches. 24 x 24 = 576 square inches. That's twice the surface area that the Evolution 4 is capable of machining. Compared to the 3018 series CNC which are very common entry level machines, the Evolution 4 has almost ten times the work area.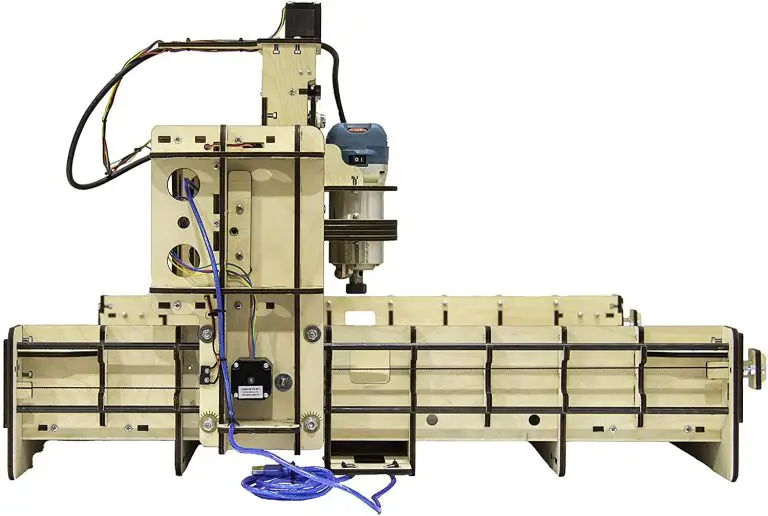 The Evolution 4 has more power and more work area. Once you get the machine up and running, you'll notice that there is a bit more noise than many other entry-level machines. The included Makita RT0701C router is a quality power tool and it sounds like one. You probably don't want to buy the Evolution 4 if you are working in an apartment or if you have to worry at all about the machine's noise while it's working.
Also, that noisy router is going to make a large mess. You can imagine the dust it creates while working. Having a vacuum or other kind of dust collection system is a must if you go with the Evolution 4. None of this is really a criticism of the Evolution 4; this is just what happens when you start working with bigger, more powerful CNC machines. Dust and chip collection will become a necessity to get good surface finishes on your projects.
When it comes to software, the Evolution 4 uses an Arduino microprocessor to connect the machine to your computer. Grbl firmware comes preinstalled on the microprocessor and uses a USB port to receive information from the software on your computer.
The USB works with Windows, Linux, Raspberry Pi and OSX operating systems. Free software can be found on the BobsCNC website. There are multiple paid software packages available, but for those just starting out it is best to work with the free stuff in the beginning.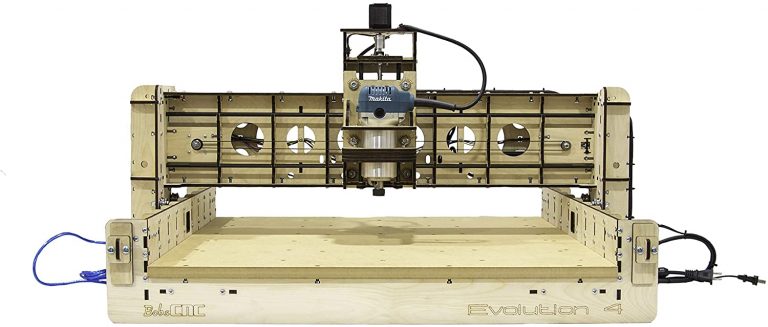 The last, and likely most important aspect about purchasing any one of Bob's machines is that they have an extremely high level of customer service. People rave about how prompt, friendly, and helpful the people at Bob's are. It's also not uncommon to have Bob himself reply to any question or comment you have!
Many of us, like to figure out things on our own but it's great to know that you have experienced, knowledgeable support available should you decide to throw in the towel and beg for help. Ok, maybe sometimes it is just nice to save yourself some headache by asking a quick question over the phone or via email.
Overall, the Evolution 4 from BobsCNC is a heavy-duty, well-built beginner's machine and is an excellent way to get started with CNC woodworking, and machine work in general. 
The Evolution 4 is at the top of its class for value and capabilities.
Things to consider when purchasing a CNC router
Safety is by far the most important consideration when it comes to working with a CNC machine.
Safety glasses are an absolute must. Read your instruction manual to ensure you are staying safe working with your particular machine. In many cases, hearing protection as well as dust collection will be a necessity.
Above all, remember that these are dangerous cutting tools and you should treat the with the utmost respect.
As noted above, the Evolution 4 has a work area much larger than many other similarly priced machines. The width of the work area will be the primary limiting factor when it comes to your projects. An extension kit can also be added to the Evolution 4 to give you a full 2' x 4' (24" x 48") work area. Just make sure you have room for the machine and the extension kit in your work space.
Machining different materials
The Evolution 3 can work with and cut a large variety of materials including wood, plastic, soft aluminum, acrylic, PCB, and leather. The machine has ample power for most hobbyist projects. The biggest material that the Evolution 3 can not work with is steel. To work with steel, you will need a much more expensive machine. Industrial grade CNCs can quickly climb in price.
BobsCNC Evolution 3 vs Evolution 4
| | | |
| --- | --- | --- |
| | | |
| | | |
| | | |
| | | |
| | | |
| | | |
| | | |
| | Wood, Plastic, Aluminum, Acrylic, PCB, Leather & More | Wood, Plastic, Aluminum, Acrylic, PCB, Leather & More |
In terms of overall capabilities, the two machines are relatively similar. They both have a torque of 75 in-oz and an AC power source of 600 watts. They also both use a Makita RT0701C router.
However, the Evolution 4 does provide you with a much larger workspace, and it's quite a bit heavier than the Evolution 3. Really, if you're trying to decide which machine is for you, just try to figure out the size of projects you're working on or will want to work on in the future.
Also, think about the size of the space you're going to keep the machine in. Almost everyone has some limits on what they can fit in their workshop or garage.
Assembly can be a frustrating process and it will go easier with some machines more than others. Partially pre-assembled CNC router kits will come together much quicker than kits that require a full assembly such as the Evolution 4.
Almost all of the 3018 and 6040 series CNCs that are available from various manufacturers will come assembled to some extent which significantly reduces the setup time.  
If you have any concerns about the assembly process then focus on machines that have great resources available to help such as guides or YouTube videos online.
BobsCNC's customer service is about as good as it gets. They have a proven track record of being responsive and helpful.
CNC machining can be complicated and overwhelming, so it is nice to know that there is a resource available to provide some guidance when you really need it. BobsCNC is definitely that resource.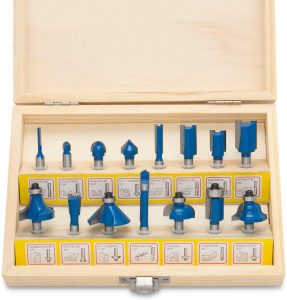 The router for these machines come with 1/8″ and 1/4″ spindle bits. You can use any straight, vee and rounded bits or buy them from various local and online retailers as long as they have shaft sizes of 1/8″ or 1/4″.
One add-on that is almost a must have, is some form of dust/chip collection. For many, this means using their shop vac along with a "dust boot" to clean up debris while the machine cuts.
Removing the chips will also help you obtain better finishes because chips can mar the surface as they are "recut" by the router.
Bob's recommends using a Universal Gcode Sender (UGS) software platform. This software can be found for free on Bob's website. The UGS can communicate with the gbrl software that actually runs the machine.
The workflow will be to create your project in a software such as Fusion360 (also free!). The Fusion360 output will be put into UGS and then communicated to your CNC machine. 
The Evolution 4 from BobsCNC is right in line with their other CNC router kits. They are well made, versatile and capable.
To top it off, they come with excellent tutorials and customer support that is second to none. Add the ability to expand the work area to double the size and the machine is pretty much future proofed for most users. 
Overall, BobsCNC has done a remarkable job of putting all the right stuff into their flagship CNC router. It truly is a best in class machine.
For more information check out these related articles: