Let's face it. There just isn't enough space at home.
We all do it. We have mountains of tools, gadgets and just plain ole stuff strewn everywhere. Sure, you can clean your garage, workshop, kitchen table or wherever you tend to work on stuff, but it just doesn't last.
Space is at a premium, which is why we bring you our guide to the best small desktop style CNCs. While these CNCs won't be carving up 4' x 8' sheets of plywood anytime soon, they are more than capable of creating some pretty cool projects on a smaller scale.
The best part is their small footprint means they can be easily stashed away when not in use. But please don't run one in your closet. Your significant other will not approve of a sawdust and metal chips on their clothes. Don't ask how I know.
Without further ado, check out our picks for the top desktop CNCs.
SainSmart Genmitsu 3018-PROVer

MYSWEETY DIY CNC 3018-PRO

Best Desktop CNC/Laser Engraver Combo

Best Desktop CNC for Aluminum,
Best Desktop CNC under $1,000

VEVOR CNC 3018 Router Kit
Pros
Quick assembly - ready in less than 30 minutes
Quiet enough for use in an apartment
Sturdy and well-built, made of aluminum instead of plastic

Cons
None for the price point
Machine Work Area: 300mm x 180mm x 45mm = 11.8″ x 7.0″ x 1.7″
Physical Machine Dimensions (Machine Footprint): 400mm x 330mm x 240mm = 15.7″ x 13.0″ x 9.4″
Weight: 21.4 pounds
Materials it Will Cut: Plywood, MDF, PCB, acrylic, nylon, carbon fiber and soft metals
Warranty: 1 Year
This SainSmart Genmitsu 3018-PROVer comes mostly pre-assembled, needing only about thirty minutes of assembly once out of the package. A smaller machine that is great for CNC beginners, hobbyists, and small business owners, this machine is very quiet and can operate inside an apartment or similar space without disturbing the neighbors. The smaller size also means it is easy to move around.
Further, the PROVer comes equipped with an emergency stop control that is very visible and easy to access for an immediate shutdown of your machine. You're inevitably going to mess something up if you work for long enough, so having a big red button to shut off the machine is pretty helpful.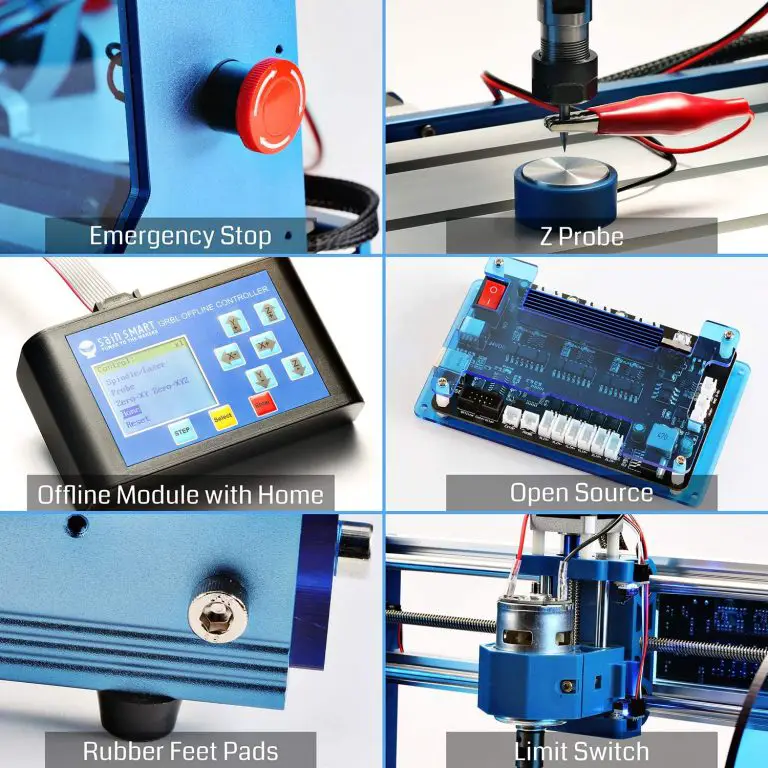 The machine also comes with acrylic safety baffles to help stop dust from spreading while you're working, making clean up a bit easier and faster. That said, the machine does produce a lot of dust and wood chips, so you may want to make your own cover, or at least be prepared for a thorough cleaning after use.
This 3018 PROVer comes with an offline controller, which allows you to run the machine without having a computer attached.
Though the machine is not particularly wide it can be used to make pass-throughs for narrower, but longer pieces.
 Even though it is a smaller machine, it is built using solid materials. Rather than being made out of wood or plastic, like a lot of cheaper models, the PROVer is made with aluminum. This solid construction also helps reduce noise and vibration while the machine is working.
MYSWEETY DIY CNC 3018-PRO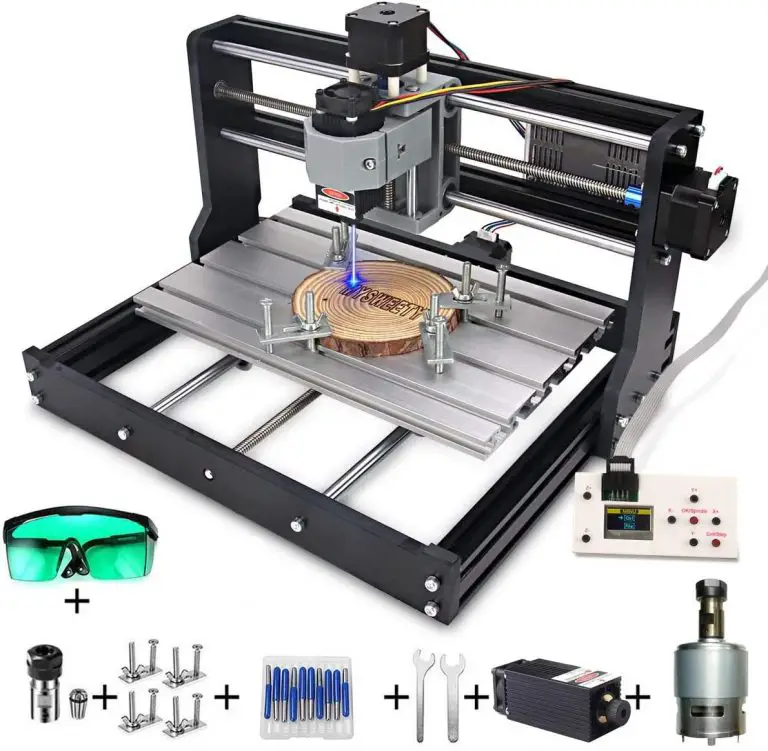 Pros
Easy to assemble and operate
Great beginner laser engraving machine as well

Cons
Not built for cutting harder materials
Machine Work Area: 300mm x 180mm x 45 mm = 11.8″ x 7.0″ x 1.7″
Physical Machine Dimensions: 400mm x 330mm x 240 mm = 15.7″ x 13.0″ x 9.4″
Weight: 15.82 pounds
Materials it Will Cut: Wood, bamboo, paper, ivory, leather, flammable plastic, PCB, acrylic, ceramic/stone, metal surface paint, metal surface plating
Note: DO NOT work on metal, iron, glass, 201/304 stainless steel, jewelry, or silver
Warranty: 1 Year
One important thing to understand with this machine is that it is truly a machine made for CNC beginners. If you expect to get this in the mail and begin a large project, you'll be somewhat disappointed. With that said, it is a good machine for those who want to start learning CNC.
Though the machine does not come assembled, assembly is relatively easy, taking between one and two hours. If you need some extra help, there are plenty of videos on YouTube that can assist you. 
That the machine does not come pre-assembled is not a surprise given its price point, but, again, assembly is easy so don't let that discourage you.
Initially, it may seem worrying that the frame of the machine is plastic – plastic can easily snap and break if the machine is running a hard job that causes vibrations and shaking. 
However, the plastic framing is phenolic resin, meaning it's really strong stuff that will not break easily. Such strong plastic also means that there are fewer parts needed for assembly, which is of course a bonus.
It should also be emphasized that the machine defaults to metric movements, so if your code is in inches and you manually move the machine with the offline controller you will run into some issues. So, you either have to be really careful when the machine is operating and be prepared to do conversions on the fly, or you can just make sure that your code is done using the metric system.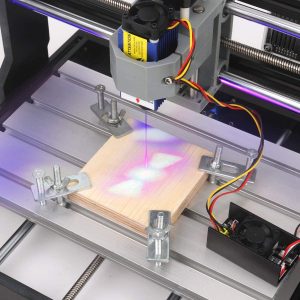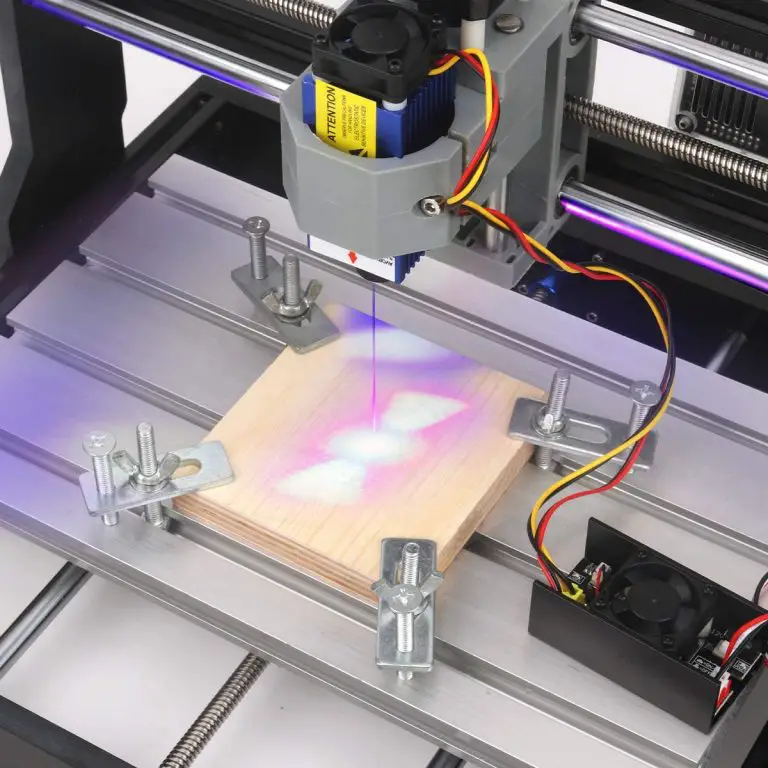 Lastly, one shortcoming of this machine is that it is mainly only for engraving on wood. This machine does not do all that well for any cutting action.
If you're looking to engrave harder materials – such as soft metals – this machine is probably not for you. It does have the added benefit of  working well for laser engraving.
For those who might want a multipurpose machine, the MYSWEETY CNC makes a good choice. The easy to use laser engraving software means most will be able to set it up and start engraving in short order (remember your laser safety glasses). 
CNC work will take a little more effort because the included CNC software isn't as user friendly, but is still very manageable.
Machine Work Area: 400mm x 300mm x 110mm = 15.7″ x 11.8″ x 4.3″
Physical Machine Dimensions (Machine Footprint): 641mm x 755.5mm x 580mm = 25.2″ x 29.7″ x 22.8″
Weight: 57.2 pounds
Materials it Will Cut: wood, MDF, plastics, foams, vinyl, and aluminum.
Warranty: 1 year
The setup for this machine is really nice. All of the hard bits – such as routing the wiring – are done for you, so what's left only takes about an hour if you're working hard. Maybe two hours if you're going through it at a slow pace.
Once you get started, you'll notice that this machine definitely has a lot of torque. It's probably a good idea to start off with the 3018 model if you're a true beginner, but if you have just a little bit of CNC experience this is a well-built, powerful machine. This model comes with a super rigid structure, so you shouldn't have any difficulties with it in terms of vibrations and shaking once your work starts.
Because the PROVerXL 4030 is so powerful, it can work on a fairly wide range of materials. You can work on wood, MDF, plastics, foams and even aluminum. Some users have said that they can also cut other soft metals, though if you're not experienced with soft metals you shouldn't try to work with them on this machine.
In terms of workspace, if you're doing relatively small projects there should be plenty of room to work. For beginners, or even a small wood/metalworking business you should have enough space to do virtually any CNC project for your customers within reason.
But if you are looking to do something a bit larger, there are some really nice upgrade kits that you can purchase for this machine. For more working space you can buy additional sizes 24"x 24"( 600 x 600mm), and up to 40" x 40" (1000 x 1000mm).
For even more versatility in terms of what you can make with this machine, you can buy the Rotary 4th Axis or High Powered Laser Modules.
VEVOR CNC 3018 Router Kit
Pros
Price - cost about half of what most others cost
Aluminum construction

Cons
Assembly instructions are lacking
Machine Work Area: 300mm x 180mm x 45mm = 11.8″ x 7.0″ x 1.7″
Physical Machine Dimensions (Machine Footprint): 400mm x 300mm x 240mm = 15.7″ x 11.8″ x 9.4″
Weight: 17.1 pounds
Materials it Will Cut: All types of plastics, soft aluminum, woods, acrylics, PVC, PCB
Warranty:
The biggest advantage of the VEVOR 3018 is its price. Generally coming in at a little more than $100, you're going to get a ton of value out of this machine. Of course, a cheaper machine generally means fewer capabilities and cheaper materials, but the VEVOR 3018 is still a good CNC machine for beginners.
Speaking of its construction, the frame is mostly aluminum with some plastic in there as well. For a cheap machine, having an aluminum frame is a big bonus. Metal frames help to reduce vibration, which makes the machines more accurate.
One downside for this machine is its assembly. You have to do most of the work yourself, and the assembly guide comes with only pictures, no words. However, there are helpful videos that you can find on YouTube to help out.
Generally, this machine should only be used for engraving, as it is not the strongest machine on the market. You may be able to cut through some balsa wood, but don't try anything stronger than that. Some users have said that if you push the VEVOR 3018 to its outer limits the machine begins to shake a fair amount, so that is one thing to keep in mind as well. However, if you're using the machine within its normal range it is pretty quiet.
Generally, people have seemed to have good interactions with the manufacturer if they've had any issues, so that's always a bonus.
Overall, if you're okay with installing the machine using only pictures and YouTube, then this is a good introductory CNC machine if you do not want to spend a lot of money. But remember, you get what you pay for.
Things to consider when purchasing a desktop CNC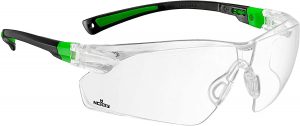 Just because these are entry level machines does not mean they aren't powerful and cannot hurt you. Always read instructions. Also, some of these machines can cause a lot of dust and particles to fly into the air while they're operating, so you should wear safety glasses if you're getting close.
The size of the work area for any machine directly affects the size of the project you are capable of doing with that machine. All of the machines on this list are entry level, so they are not particularly large. That means they can be easily moved around and do not take up so much space, but that also means the projects you are capable of producing is limited.
It's also important to remember that the overall size of the machine is not the same as the work area of the machine. For example, the SainSmart PROVer 3018's overall size is 420 x 340 x 280mm, but its work area is only 260 x 155 x 35mm. That's a big difference, so make sure you're reading the machine specs carefully.
This relates to the materials the machine is made out of. When a machine has a really solid frame – typically made out of metal, like the Genmitsu PROVerXL 4030 for example – this is always preferable to a frame made out of wood or plastic.
A solid frame will reduce the shaking of the machine, which makes cuts and engravings more accurate. Reduced shaking can also make the machine quieter when it's running.
Not every CNC machine will cut all materials. This is especially true when it comes to smaller, desktop style CNCs. 
There are two big jumps in capabilities. The first is to soft metals such as aluminum. The second is to harder metals such as steel. 
Some of the machines above will handle aluminum. Not all will do it easily. None of them will be able to cut steel.
Take note of the capabilities of each machine as referenced above and you won't be disappointed.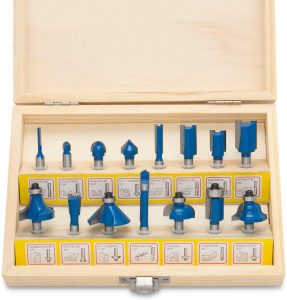 Tooling is another word for cutters. Different materials require different cutters, and the type of cutter you're using can make all the difference on a project.
Most machines will come with a few cutters for you to use right away. These bits are not usually of the highest quality, but if you're a beginner they will do the job. Learn the pieces, and when you're ready you can buy separate, more expensive ones.
Customer service is really important because these are complex machines if you're new to CNC. It's not uncommon to have an issue during assembly, or while you're using the machine.
In many online reviews, people note the level of customer service that they have experienced, and you should pay attention to this. Don't be afraid to go on a company's website and look around to see how easy it is to contact customer service, and also look for things like video tutorials that the company has provided themselves.
There is a large variety of software that gets used on these machines. Covering them all would be a giant topic by itself. To get you started here is a quick rundown:
CAD or computer aided drafting is software that will allow you to create models to machine or engrave. This is only a drawing and needs further processing before your machine will know what to do with it. The most commonly used CAD software are Fusion 360 and Tinkercad
CAM or computer aided manufacturing is the software that takes your model and turns it into code that your CNC will understand. If you are familiar with 3D printers, CAM software is similar to slicing software. The most common CAM software are Fusion 360, CamBam, SheetCam and MeshCam.
A good starting point is to look into Fusion 360. It has an enormous number of tutorials on YouTube. You are likely to find help for any issue you run into and there are many guided courses on use of the software.
When it comes to beginner level CNC machines, the terms router and spindle are used almost interchangeably. Some machines, such as the ones from BobsCNC, use an actual router like you would buy at a hardware store. Others use spindles.
Practically, they are both motors that have a collet or chuck to hold a cutting tool such as a router bit or end mill.
For more information check out these related articles: