Starrett has been making precision measuring tools such as micrometers and calipers for over a century. Sure, they know their stuff but how do they stack up against some of the up and coming manufacturers as well as options from tried and true tool manufacturers such as Mitutoyo and Brown and Sharpe?
Keep reading to find out.
Pros
Extremely accurate
Built to last

This Starrett dial caliper, made out of hardened stainless steel, is perfect for metalworking, woodworking, automotive, and machining applications. The caliper's sturdy but sleek design – including a satin finished bar – means it will look as good as it works, even after it spends all day banging around in your toolbox or garage.
Like all Starrett products, this dial caliper is designed and built for precision and accuracy. This particular model features a 0 – 6 inch measuring range, 0.001 inch graduation, and one revolution around the dial face is equal to 0.100".
This caliper is ideal for measuring exact outside dimensions, inside dimensions, and depth.
The dial's bright white background and black graduations mean it is easy to read, even in bad lighting. The bar itself also comes equipped with black graduations, measuring in both inches and millimeters. The adjustable dial bezel further adds to your ability to take precise measurements.
This Starrett caliper is one of the most versatile tools of its kind on the market. It comes equipped with a thumb-operated fine adjustment roll, and razor-thin contacts.
The jaw has lock screws so you will never have to worry about it moving if you're measuring at an angle and need to pull the tool out of a tight spot to take your reading. Speaking of readings, the caliper's spring-loaded double pinion is designed to prevent any backlash for an even higher degree of accuracy.
Though this caliper is extremely sturdy on its own – as mentioned above it is made of hardened stainless steel (never rusts!) – it is nonetheless a tool designed for precision, which means it needs to be treated carefully whenever possible. That is why this caliper comes with a plastic, easy to carry, pin hinge case to store your set when not in use.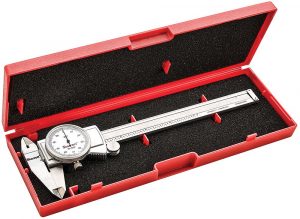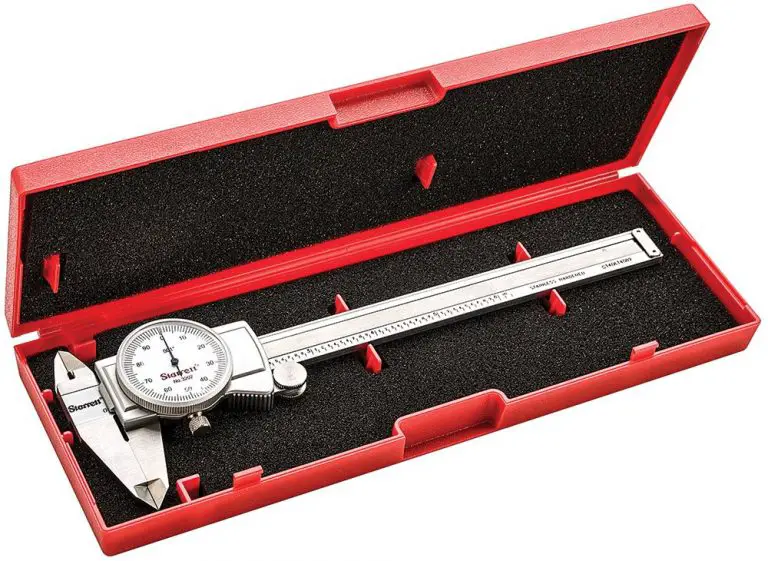 In addition to protecting the caliper, the case also makes it harder to misplace or lose this smaller tool when it's not in use.
Also, with this Starrett dial caliper, you can say goodbye to project delays caused by the fact that your tools won't turn on. That's because this caliper uses a dial reader rather than a digital one, so it is always ready to use from the moment you pull it out of its case.
You will not have to buy batteries when the caliper is delivered to you, and you will never have to worry about the instrument dying in the middle of an important job.
You can also rest assured that the dial will reset back to zero after every single use, whereas cheaper digital models can miscalibrate over time and after repeated use.
The accuracy, measuring capability, and quality of parts make this dial caliper a must-have. Starrett might be a name brand, highly trusted industry leader in precision measuring instruments, but this tool really is for everyone – whether you're an expert, novice, or somewhere in between.
The cost is more than reasonable, and if you're working with wood, machines, or metal, you can't afford to buy a cheaper product that will give you inaccurate measurements.
Things to consider when purchasing a dial caliper
The most common size of calipers is 0-6". This set from Starrett is exactly that. Larger calipers are available. For larger sizes, they most often come in 0-12" and 0-24" versions. Different measuring range sizes are available, but these are the most common.
Larger sets of calipers can be more difficult to use when trying to measure small sizes. Because of this, most users will have a 0-6" set of calipers in addition to a larger set if they have the need for a larger measuring range.
The 0-6" set usually gets the most use and the larger set gets pulled out only when the smaller caliper won't do.
Dial calipers almost all give readings at a resolution of .001". However, they are not all accurate to .001". Some will give a reading to .001" but only be accurate to .002". This is more common in larger caliper sets as well as cheaper dial calipers.
When looking for a set of dial calipers, make sure to get a set that has a resolution of .001" and an accuracy of +/- .001".
For accuracy greater than .001", you will need to look into a quality micrometer. Micrometers are capable of taking measurements to an accuracy of .0001" or better. That is 10x more accurate than a dial caliper. To learn about the differences between these two types of measuring tools, see our guide to micrometers vs calipers.
What kind of measurements can a dial caliper take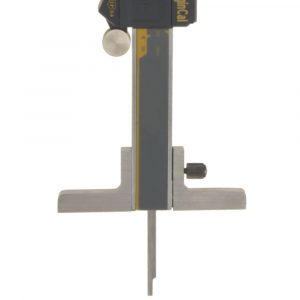 Dial calipers are versatile tools. They are capable of taking inside, outside, depth and step measurements. Not all will, but most do.
When looking at smaller 0-6" dial calipers, make sure it is capable of taking a depth measurement. Again, most will but some of the budget brands do not include the depth rod to keep costs down.
Additionally, if you are looking at a larger set of calipers then pay attention to both the depth measurement rod as well as whether or not the caliper has jaws for measuring internal dimensions. Some calipers are only capable of taking outside measurements.
This is likely all they will be needed for when dealing with larger sizes, but just be aware of what you are getting. Calipers that only take outside measurements and nothing else are most commonly seen in calipers that measure 24" or larger.
Digital calipers can make a great alternative to dial calipers. Both types come with their benefits and drawbacks.
Digital calipers are easier to take measurements, and most will have the ability to instantly switch between units at the press of a button.
Dial calipers don't require batteries and will always be ready to go even if you haven't used them in a year.
For more info regarding the differences between these two types of calipers, see our guide to dial vs digital calipers.
Be gentle with your tool.
Dial calipers are precision measuring devices. They should be treated like it. While some may label themselves as "Shock Proof", none really are.
Trust me, you don't want to drop any caliper off your workbench onto a concrete floor. Handling your tool with care and storing it away, preferably in a case inside a toolbox when not in use, is the best practice.
Treat it right and your dial caliper will likely last a lifetime.
For more information check out these related articles: