The iGaging Absolute Origin 0-6" digital calipers are made of hardened stainless steel. Capable of taking inside, outside and depth measurements like most calipers, they have an accuracy of +/- .001" or .02mm. They have a resolution of .0005" or .01mm. These calipers from iGaging are capable of measuring in inches and millimeters. Fractional measurements are available on a more expensive version of the same caliper. They also have a lock screw which makes taking repetitive measurements easier.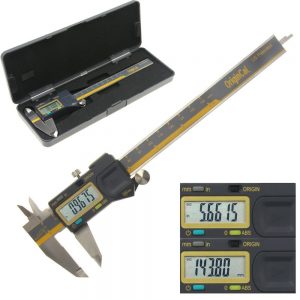 The display is not as large as some other caliper models but it is easy to read. Unfortunately there is no auto off or auto on feature for the display. Remember to turn the tool off after use. The iGaging caliper has been noted to have measurement errors when the battery is low. This wouldn't be as much of an issue if there was some kind of indicator that the battery was low. The caliper comes with a spare battery which will help alleviate the problem but some of the reported errors could be quite hard to detect. 
 This digital caliper does come with some nice extras and features not always seen in its price range. Most importantly is IP54 protection. The IP stands for ingress protection. The 5 is the level of protection from solids such as dirt. The 4 is protection from liquids such as water or coolant. This equates to being protected from dust and from splashing water. Protection from contamination is not often seen with digital calipers in a budget price range. Even with more expensive name brand calipers, IP54 is not a common feature unless paying more for a specialty tool with this feature.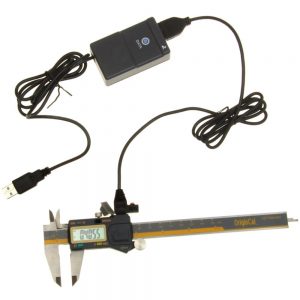 Additionally the iGaging caliper comes with a nice protective case and a SPC output. The SPC output allows the caliper to be connected to a computer for recording measurements. The version of the caliper that comes with the cable to connect to your computer is relatively expensive though. The cable more than doubles the cost of the caliper. 
 One of the best features of the iGaging Absolute Origin digital caliper is that it comes with a full 2 year warranty. Unfortunately, there is a possibility that you will need to use it. Plenty of other reviewers on Amazon have noted that the tool either stopped working altogether or gave erroneous measurements.
The iGaging caliper has some very nice features such as IP54 protection and a SPC output. The errors in measurement that occur with a low battery and the general reliability regrettably outweigh them. The generous warranty helps make up for some of the tool's shortcomings but ultimately a measuring tool such as a caliper needs to be dependable. The iGaging caliper lacks that dependability.
For more information check out these related articles: