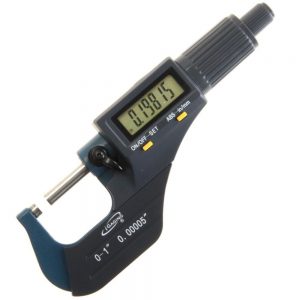 Pros
Extra features
Display

iGaging is a popular brand for budget friendly inspection tools. This set of digital micrometers is no different. They have a measuring resolution of .00005" or .001mm and an accuracy of +/- .00015" which equates to +/- .003mm. While not as good as some digital micrometers which cost 2-3 times as much, the iGaging digital mics come close at a fraction of the price.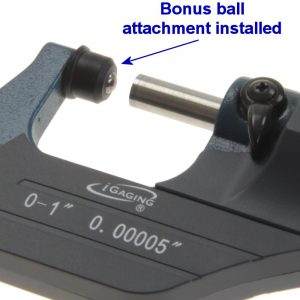 These iGaging digital micrometers have a very impressive feature set. Some of the extras that aren't normally seen in its price range are a SPC output and a ball attachment for the anvil. The SPC output allows you to record measurements directly to your computer while the ball attachment allows you to measure round surfaces such as the wall thickness of tubing. Some of the more standard type features include an extra battery and a protective case to keep your tool safe. Carbide tips are a nice bonus that isn't always seen on budget level digital micrometers. They provide superior wear resistance when compared to normal hardened steel.
A decent size display and simple button layout adorn the face of the tool. With the press of a button the micrometer switches units from inches to millimeters. The ability to switch between absolute and incremental measuring modes is available too. Nothing too out of the ordinary present in the normal use of the mic.
Like most other digital micrometers, this one from iGaging has a little more weight to it than a standard micrometer. Some don't like the added weight because they feel it makes it harder to maneuver around their workpiece. With a little time and use, I don't believe the weight will bother anyone.
Now onto some of the negatives. The biggest problem is that some buyers report instances of the display flickering. All of the budget digital micrometers have quality issues such as this one, the bigger problem is that the manufacturer isn't the most responsive to problems. Another common issue for lower priced tools is limited battery life. For most this shouldn't be too much of a bother but it's best to keep an extra battery or two on hand. Lastly, the thimble feels cheap because of the plastic material used.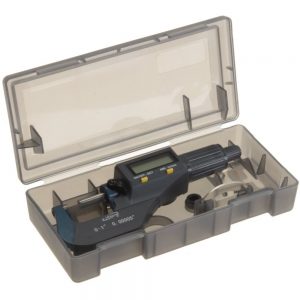 The simplicity of the display and button layout are a nice touch and will be appreciated by those not as familiar with digital micrometers. The addition of the SPC output and ball attachment put these mics a step above most other entry level digital micrometers. To get a better micrometer you will need to pay 3 times the cost of these mics or more. The iGaging 0-1" digital micrometer is a solid budget priced inspection tool.
For more information on micrometers see these related articles: