Micrometer stands are simple devices that serve a very important purpose. They give you a hand and no, I do not mean complement your super awesome machining skills.
They work to free up a hand that would otherwise be used to hold a part or measuring tool. Their most frequent application is to hold micrometers for use in high volume manufacturing. In addition to this, they are often used by hobbyists and home machinists in their pastime pursuits.   
These simple tools should be easy to get right….right? See our very short list of the best micrometer stands to find out.
Grizzly Industrial makes some very good tools for their price. Their tools are made in Taiwan and China, but the company is based in America.
They have quality control personnel at the manufacturing facilities to inspect the tools before shipping them stateside. This is likely the key to how they have been able to provide good tools at a reasonable price.
This micrometer stand from Grizzly is a solid piece of equipment. It is solid, heavy and clamps well without issue. There have been some reports that occasionally the stand doesn't operate as smoothly as expected but most report that a little oil fixes it up quick.
Overall, the Grizzly stand easily beats out the straight from China copycat competitors and does it while keeping the cost much lower than the premium tool manufacturers.
Best of the best but at a price.
It should be no surprise that Mitutoyo makes our list of the best micrometer stands. They make excellent micrometers as well as other dimensional measurement equipment. Across the board they make excellent tools and gauges. The only downfall of this is that their quality comes at a price.
When it comes to measurement equipment such as micrometers, calipers and indicators, the quality is worth the price.
When it comes to simple tools, the nicer stuff just isn't worth the price.
The Mitutoyo micrometer stand is a nicely finished, version of exactly what it should be. It's a clamp with a solid base to keep things steady.
While simple in design, it does exactly what it sets out to do. And it does it consistently. Tools like this will last multiple lifetimes if not treated right. Yet it still doesn't justify the price.
If budget is of no concern, then go with the stand from Mitutoyo. For everyone else, think about going with one of our other picks for a slight downgrade in quality and a big difference in price.
A nice budget friendly option.
The Accusize micrometer stand has a solid base which provides good stability and non-slip feet to make sure it stays right where you want it without the need for clamping it to your workbench. However, it can still be clamped if you want 100% assurance that this puppy won't move.
It should be obvious from the photo, but it isn't as heavy or big as our other options, so it loses a little in stability. It makes up for it though with its small, almost portable size. 
This stand from Accusize folds flat allowing it to be stashed away easily when not in use. A welcome feature for those of us with cluttered workbenches.
The S907-C153 isn't the end all, be all of micrometer stands but for the price it certainly does a respectable job of keeping your tool in place.
Frequently asked questions
What is a micrometer stand?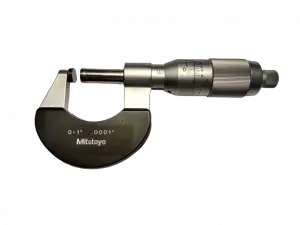 A micrometer stand is a tool used for holding measuring equipment and various objects for precision work. The angle of the stand can be rotated to find the best position for working.
The heavy base of the stand keeps things steady. In addition, the stand can be clamped to a table or workbench to provide more stability.
How do you use a micrometer stand?
Micrometer stands are pretty simple. Basically, it is a two-way clamp.
There is a clamp for holding the tool in place, as well as a clamp for rotating the holder and adjusting the angle. Once clamped, the base steadies the object while allowing the user to keep two hands free. They also have the added benefit of insulating the object being held to varying degrees of heat.
Why would you use a micrometer stand?
A micrometer stand will allow you to free up your hands for precision work such as soldering PCBs or measuring tight tolerances, especially in high volume.
Another benefit is limiting the amount of heat transfer from the user, to either the object they are measuring or to the measuring device itself.
Thermal expansion will cause things to expand. This isn't a good thing when trying to take measurements down to very tight tolerances.
A good micrometer stand will help insulate your tools from your body heat and give you more accurate readings.
For more information check out these related articles: