It used to be that there were a limited number of options when it came to dial calipers.
Well known manufacturers such as Mitutoyo, Starrett and Fowler were the only choices available. Boy, have times changed.
Now the same tried and true tool makers are still there but they are competing from a long list of knock offs and up and coming manufacturers. 
Find out how the old compares to the new in our guide to the best dial calipers available found below.
Best dial calipers overview
Starrett 3202-6 0-6" Dial Caliper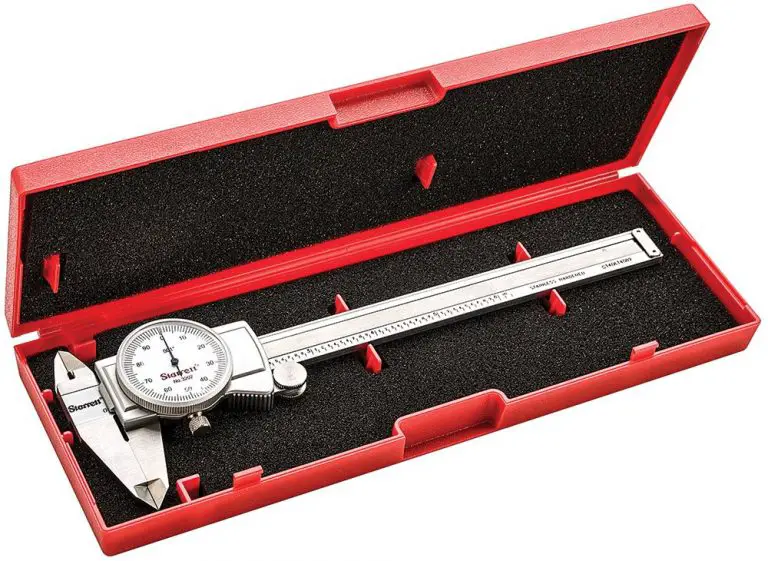 Pros
Exceptional accuracy
Built to last

The Starrett name is synonymous with precision measuring instruments. Known for making quality micrometers and calipers as well as many other tools for well over a century. They are a premier machine tool manufacturer.
Their calipers are top shelf across the board. They have long been exceptionally accurate and well made.
Many of the features of Starrett's caliper seem like simple things to get right. What makes this set of calipers better than all the others is the way that they are able to get all those little things right all at once and on a consistent basis.
As anyone who has used a set of calipers can attest to, the feel of a good set of calipers is where the tool shines. Starrett has been able to put it all together through the years and make calipers that provide top notch accuracy while maintaining an amazing level of smoothness in the mechanical workings.
Depth measurements are one area in which dial calipers from many manufacturers struggle. This is not the case with Starrett. Depth measurements from these calipers are every bit as accurate as any inside or outside measurement.
The accuracy is easier to attain with a tool as good as this one from Starrett. The thumb roller is smooth and with a little practice allows the user to gain a high level of precision in their measurements.
The easy-to-read dial face helps as well. The bright white face makes it easier to read your measurement even in lower light situations such as in your garage or leaning in to take readings in a dimly lit machine.
Overall, there are only positives for Starrett's dial calipers. They just feel right and on top of it all are built to last. This truly is an heirloom quality tool.
Anytime Tools 0-6" Dial Caliper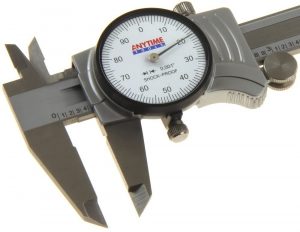 Pros
Price point
Customer service

Anytime Tools has quietly worked their way up to be one of the higher quality inspection tool makers. They have found a way to balance making a consistently good measurement device while still keeping the overall cost down. This is not an easy feat.
Easily the best budget friendly caliper. They have been able to create a tool that mirrors the same characteristics of calipers that cost almost twice as much.
As the best dial caliper under $50, it is amazing that they are still able to come packed with extras that other brands like to skip in an effort to keep the cost down. This caliper from Anytime Tools comes with a nice padded case that helps to keep the precision tool safe from accidental damage.
The dial face on this tool is one of the nicest. The lines are sharp and contrast nicely with the white background which makes reading the caliper easier.
The most important aspect is that they have been able to maintain the same accuracy of tools that cost almost twice as much. Nothing matters more than accuracy when it comes to inspection and measuring tools.
Pros
The usual Starrett quality
Accuracy

Cons
Hard to take smaller measurements
Cost
One thing you should know about any precision measuring tool such as a dial caliper is that as the measuring range goes up, the price can climb steeply.
You might think that the cost of a 0-12" caliper would be twice as much as a 0-6" set. Unfortunately, this isn't the case and that 0-12" set can be 5-10x more expensive. This is especially true with sets from the most well-known manufacturers.
Luckily, Starrett makes a great 0-12" caliper that doesn't completely break the bank. It has all the same great features of their 6-inch caliper but in a larger package. Another instance of a truly remarkable measuring tool. If you need a large caliper and trusted accuracy, then look no further.
One thing to keep in mind with larger calipers is that they will likely see much less use than a 0-6" set. Whenever possible you will want to use a smaller set of calipers for your measurements because they are so much easier to maneuver. It can be quite difficult to measure a small hole with a set of 12″ calipers.
Because they will be used less often, for some this may mean that they can sacrifice a little in accuracy and go with a cheaper set of 0-12" calipers. 
The Starrett 3202-12 is accurate to +/- 0.001″ which means it is an extremely capable measuring tool.
Just like any other measurement, you should pay attention to the tolerances you need before making any purchases.
Fowler 52-008-712-0 0-12" Dial Caliper


There is only so much that can be said about any dial caliper. They are all constructed roughly the same. 
The biggest difference between any make or model dial caliper is the accuracy.
Most will want a caliper that is capable of taking measurements to +/- 0.001″ but if you know you can get away with a little less then there are some cheaper options available such as the 52-008-712-0 from Fowler.
Fowler has made/imported measuring tools for decades and done it well. Lately, they have skewed towards the lower end of the pricing range. Often they are not as cheap as the Chinese made tools and aren't as accurate as the American, Japanese or European made tools.
Where they have really been successful is in making some of the tools that are more complex at a lower price point than most of their competition. Depth micrometers and dial calipers are two of the tools they have done well.
This dial caliper makes a great budget friendly choice for anyone who can sacrifice a little accuracy. Most will find this isn't an issue because as parts get larger, they do tend to have looser tolerances. Pay attention though because this isn't always the case.
Starrett 120A-6 0-6" Dial Caliper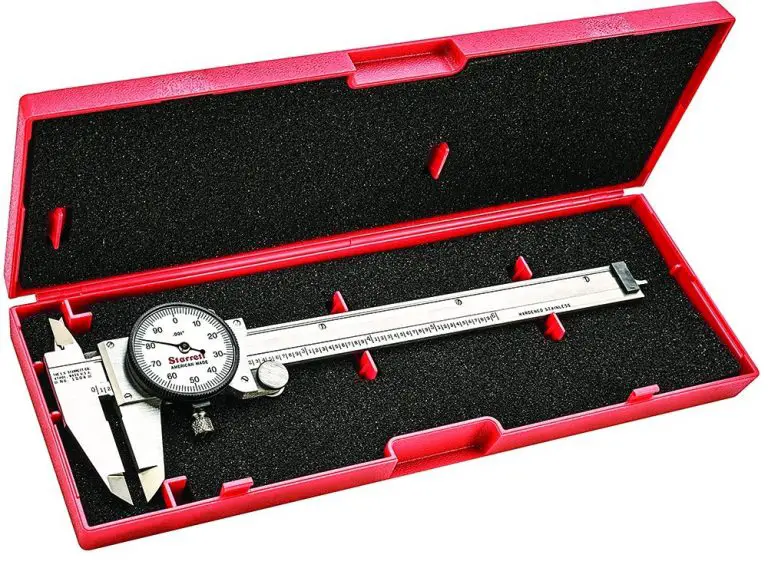 American made tools can be quite hard to come by nowadays.
Luckily, Starrett continues to make a selection of their tools in the USA. The only downside is that they come with an added cost.
At about double the cost, Starrett's American made calipers are excellent but in my opinion they just don't justify the cost. 
I realize that some would prefer to buy American made tools at all costs and because of this have include them on the list. 
This set of calipers is great. The build quality is amazing but it just isn't enough to justify the added expense for most people. 
Things to consider when purchasing a set of dial calipers
Dial calipers come in a large variety of sizes. The most common size has a measuring range of 0-6". Less common ranges of 0-4" and 0-8" are also available. 
Larger sized calipers such as 0-12" and 0-24" are available as well but they are most often used in conjunction with a 0-6" set of calipers. This is because taking smaller measurements with a large set of calipers can be extremely awkward. In most instances, the larger sets get pulled out when other measuring tools just won't do.
Sets of calipers with measuring ranges above 24" are available but are much less common than sizes under 24".
A good set of 0-6″ dial calipers is accurate to +/- .001". Any 6 inch calipers which are less accurate should be ignored.
As the measuring range of the caliper gets larger, the accuracy of the caliper will often be reduced. Pay attention to the specs because it isn't uncommon for a 24″ set of calipers to only be accurate to +/- 0.002″.
If you are in need of accuracy that is greater than this, you will need to find a nice set of micrometers for your application.
Micrometers are commonly available with an accuracy of +/- .0001". Some cheaper sets of micrometers will not quite meet this accuracy, but you can rest assured that a set from the most well-known manufacturers such as Starrett and Mitutoyo will more than meet this standard.
Dial calipers sacrifice some accuracy to gain versatility in measurement.
Both dial and digital calipers have their advantages. For dial calipers, their lack of batteries mean they are always ready to take a measurement.
Digital calipers have the benefit of taking instant measurements as well as switching between units at the press of a button.
There is no difference between the accuracy of digital and dial calipers and they are both available with similar measuring ranges. Ultimately, the choice between which is better comes down to a matter of preference.
For a more complete guide to the differences between dial and digital calipers see our guide on the topic.
The differences between micrometers and calipers lie in their accuracy and versatility. Micrometers are more accurate but with a much smaller measuring range.
Micrometers are generally ten times more accurate than calipers and have a measuring range that is 1/6 of the range of a typical caliper.
For a complete rundown of the differences, see our full guide to the differences between micrometers and calipers.
New vs used dial calipers
Don't be afraid to look for a good set of used calipers. Brands such as Starrett, Mitutoyo, Brown and Sharpe, and Fowler have made quality calipers for years.
This is especially true if you know where the tool is coming from. Often retiring machinists are more than willing to part with their tools if they know someone is entering the trade with a passion for it.
If you don't know the history of the tools, make sure to check the accuracy before buying. Not everyone treats their tools as gentle as they should. If you have access, check any potential purchase against a known standard such as a calibrated set of gauge blocks.
One item to look for when purchasing used tools is a case. If someone has kept the case and/or original box for a number of years, then it is likely that they have treated it carefully and it is every bit as good as new.
What can a dial caliper be used to measure?
Dial calipers can be used for a large variety of measurements. Most models will take inside, outside, step and depth measurements.
The inside, outside and step measurements are fairly standard and will be consistent among many manufacturers, but the depth measurement is what sets many quality calipers apart from the pack.
Note: Some calipers with larger measuring ranges such as 0-24" will come without the ability to take depth measurements. This is true as well for outside measurements. Some calipers will come with the ability to only take outside measurements thought this is usually only for calipers with measuring ranges over 12".
How to reset or zero a set of dial calipers
To adjust a dial caliper, move the caliper until the jaws are closed.
Once in the zero position, check your reading on the indicator needle. If it lines up on zero, then no adjustment is needed. You can proceed to verifying the tools repeatability as noted below.
If it does not line up on zero, loosen the bezel lock screw and turn the dial face until it lines up on zero. Once aligned, tighten the lock screw.
Now open and close the jaws to verify that the caliper repeatedly returns a zero reading.
Once this is verified, if available use a set of known reference standards such as a gauge block set to verify different readings across the calipers measuring range. For a 0-6" caliper, 0", 2", 4" and 6" would be a good start.
After the tool has been verified as accurate across its measuring range, you can proceed to take your part measurements.
How to calibrate dial calipers
Calipers should be calibrated periodically at an interval of your choosing. In a machine shop atmosphere, this will be determined by the company. Normal calibration intervals will range from 3 months to 1 year and everything in between. Some shops will even base the calibration frequency on tool use as opposed to length of time.
For home use, I recommend verifying them before each measurement.
With critical measurements, at home or in the shop, this verification becomes even more important. You don't want to find out that your engine was bored oversize because you neglected to check your caliper before using it right?
Verify your tools and if possible, check them against a known calibrated standard such as a set of gauge blocks.
For more info on caliper calibration, please see our post on the Complete Guide to Caliper Calibration.
Please don't pay more for anyone to provide a calibration certificate with your caliper. It just isn't necessary.
Any extra money that would be spent on calibration costs would be much better spent on a set of gauge blocks so you can calibrate the tool yourself. Buying your own set of gauge blocks allows you to check the caliper regularly.
This can be especially important because it allows you to verify the accuracy of your measuring device, or measuring devices if you have more, right before taking a critical measurement so you know the readings are accurate.
Skip the calibration certs, if you think you might need it, get a set of gauge blocks and calibrate the tool yourself instead.
Maintenance and care tips
Lubricating your dial calipers
Most dial calipers will be made of stainless steel and therefore be resistant to rust. Not all types of stainless steel are created equal. Because of this it can be a good idea to have a light oil coating on some of the surface of the tool such as the beam.
Starrett makes a tool and instrument oil that works very well for lubricating all types of precision tools such as dial calipers.
It may be an old wives tale but many stand by not storing their calipers and micrometers with the measuring faces closed. Some say the surfaces in contact will corrode quicker. Others say it stresses the frame.
It is simple enough to back the tool off a little when you put it away and that is why we recommend doing it. If you plan to store the tool for extended periods of time, think about storing them with one of those little desiccant bags to absorb any rogue moisture.
Dial calipers are precision measuring tools, treat them like they are. They should be handled carefully and protected from shock damage as well as elements such as moisture and dirt.
Putting them away when not in use will go a long way towards keeping them out of harm's way.
Dial calipers are precision measuring tools so the best thing you can do with them is protect them from damage as much as possible. Cases provide some damage from shocks and contaminants such as dirt, water, oil and/or coolant.
When not in use, the best place for quality measuring tools such as these is in a toolbox and the next best thing is in a decent case. Stash the case in your toolbox and you can double up the protection.
Calipers are notoriously difficult to use to take depth measurements. The nature of the tool makes it top heavy and therefore easy to get an incorrect reading when taking those depth measurements.
A depth base attachment makes the tool more stable and much more capable of taking accurate and repeatable measurements when it comes to things such as hole depths.
Dial caliper diagram and part names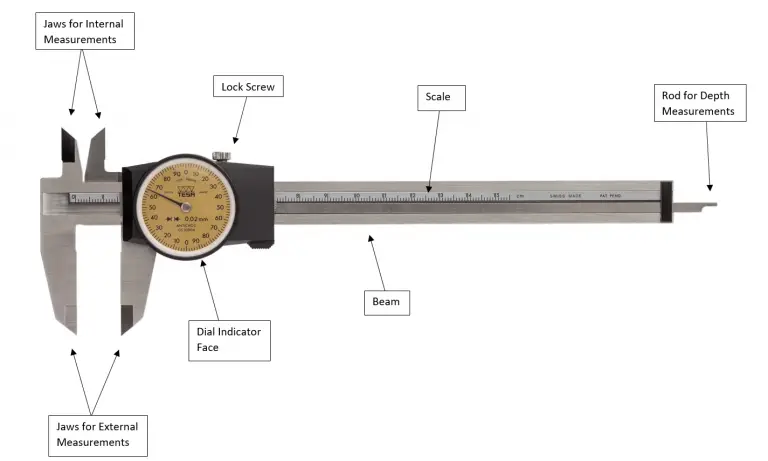 They are the primary measuring faces. They come into contact with your part. Make sure they are sitting square on your surface. You don't want to twist the caliper at an angle because you won't get an accurate reading.
The scale is used in conjunction with the dial indicator face to get your measurement reading. The scale reads in increments of .100" while the dial face reads in increments of .001". They get added together to determine your measurement size.
Where you will look for the most important part of your measurements. The dial face reads in increments of .001". The reading on the dial face gets added to the reading on the scale to get your measurement.
The beam is the surface along which the body of the caliper moves.
Not present on all calipers, though most have them especially at smaller sizes. The depth rod is the part of the caliper that extends out the end of the tool to take depth measurements.
Not present on all calipers, the lock screw allows the caliper to be locked in place to take readings that may be in hard-to-reach positions that may not allow the caliper to be read while measuring the part.
For more information check out these related articles: