For many people looking to get into CNC machining, one of the most important aspects is the price. CNC mills and routers can cost tens of thousands of dollars or more.
These are not the type of machines we have outlined for you here.
It can be hard to find budget CNC routers with all the capabilities needed for detailed work. Luckily, we have laid out the best machines at the lower end of the price scale for you. Check out the best budget friendly starter CNCs below.
| | | | |
| --- | --- | --- | --- |
| | | | |
| | | | |
| SainSmart Genmitsu 3018-PROVer | Best All Around Budget CNC | | |
| | | | |
| MYSWEETY DIY CNC 3018-PRO | Best Affordable CNC/Laser Engraver Combo | | |
| BobsCNC Evolution 4 CNC Router | Best Cheap CNC Capable of Large Work | | |
Work Dimensions: 300mm x 180mm x 45mm = 11.8" x 7.0" x 1.7"
Weight: 15.33 pounds
Materials it Will Cut: Plywood, MDF, PCB, acrylic, nylon, carbon fiber and soft metals
Warranty: 1 year
If you're new to CNC machining and woodworking and you want "bang for your buck," then the Genmitsu 3018-PRO is a great place to start. This machine has all the capabilities you'll want from a starter machine, but it's not going to go busting up your bank account. In short, the 3018-PRO is the best beginner CNC in terms of value for money.
One great thing about the 3018-PRO is that assembly is not too difficult. Though the machine does not come pre-assembled, it only takes a couple of hours to put the machine together. Some more expensive entry-level models take a day or two to assemble, so a couple of hours isn't bad.
The machine assembles a lot like IKEA furniture: the manual utilizes pictures over words. If you do get stuck, though, there are plenty of great videos on YouTube to guide you along.
Once you have the 3018-PRO setup, you'll notice just how solid and sturdy the build is. The frame is made out of aluminum, which is incredible for a cheaper machine. For a machine of this price, it's not uncommon to find cheap plastic frames that allow the machine to shake or vibrate when the machine is operating. Trust me, shaking and vibrating isn't good for your accuracy or the surface finish of your project.
With a 1.8-inch engraving depth, you'll find that the 3018-PRO is capable of cutting all types of plastics, soft aluminum, woods, acrylics, PVCs, PCBs, and a wide range of other materials. Just don't think you're going to be working with anything to hard such as steel.
If you're brand new to CNC machining, the 3018-PRO's versatility will allow you to experiment with a wide range of materials without fear of damaging a high-end, pricey machine.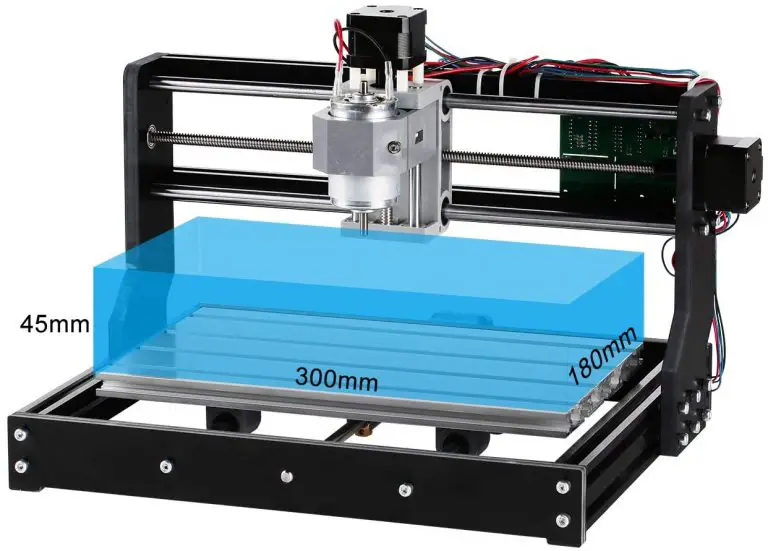 While the working area of this machine isn't huge, it is designed to all you to pass through your workpiece. Basically, you slide your part through the machine and work on it in sections. This is called tiling and will be handled by the software. The limiting factor will be the 300mm (11.8") width of the machine's work area. Still, if you are dead set on building large projects, this likely won't be the right choice for you.
As for software, the 3018-PRO is compatible with most operating systems. This is because the machine has an offline control module. Even if your desktop can't connect straight to the machine itself, you can copy the code from your computer to an SD card and then control the machine using the offline module. This alone may save you from having to purchase additional software.
Even if your computer is compatible, an offline controller is a welcome addition, so you don't need to always have your laptop or desktop constantly connected to the machine.
All in all, the Genmitsu 3018-PRO is the best budget CNC.
Genmitsu CNC Router 3018-PROVer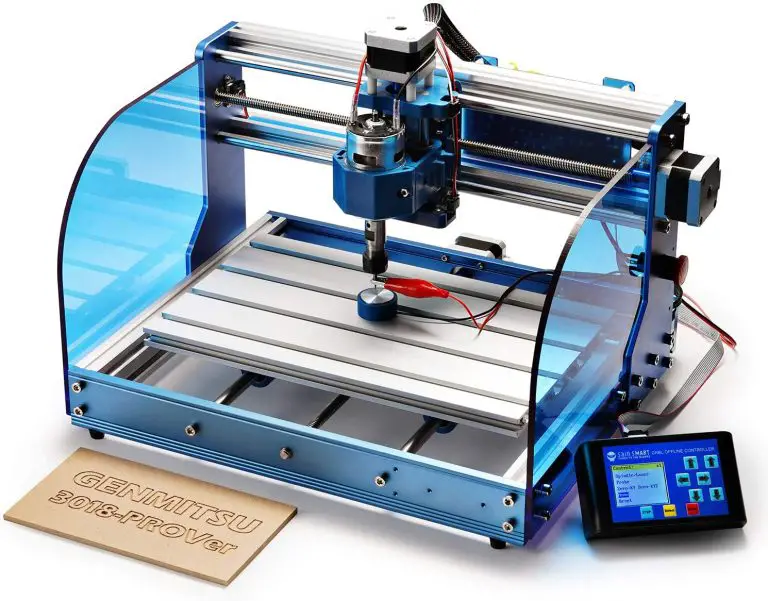 Pros
Quick assembly - comes mostly pre-assembled
Quiet

Cons
Customer service can be slow
Work Dimensions: 300mm x 180mm x 45mm = 11.8" x 7.0" x 1.7"
Weight: 21.4 pounds
Materials it Will Cut: Plywood, MDF, PCB, acrylic, nylon, carbon fiber and soft metals
Warranty: 1 year
The 3018 PROVer is really just an upgraded version of the 3018-PRO. Naturally, the PROVer will take a little more out of your wallet than the PRO, but you're paying for upgrades that are absolutely worth it. If you can afford the extra, go for it. For my money, I'd say the PROVer is the best all-around budget CNC machine.
I won't go too much into the basics of the machine here since it's simply an upgraded machine from the review above. Instead, I'll stick to the upgrades.
Assembly is similar. It will take an hour or two (don't believe the 30-minute time that SainSmart quotes) but nevertheless, that's a quick assembly time for a CNC machine.
One big addition the PROVer has is the Toshiba TB6S109 driver, which makes the machine quieter and more precise when cutting and engraving. Upgraded drivers are a welcome addition to any CNC, especially lower priced machines such as these. They bring added accuracy and machine longevity.
When comparing this machine to the 3018-PRO, you'll notice that this PROVer has acrylic baffles on the side. These baffles aren't there just for looks – they work dually as a safety mechanism and a way to some of the mess from escaping when the machine is running. The baffles will prevent wood and other materials from flying off your projects at high speeds, and in doing so, they'll contain the dust somewhat for a faster clean up.
Often people will start out with cheaper CNC machines such as the ones in this post and find out that they want quality of life upgrades for their tool. Essentially, the PROVer combines the most common upgrades and packages them together for you.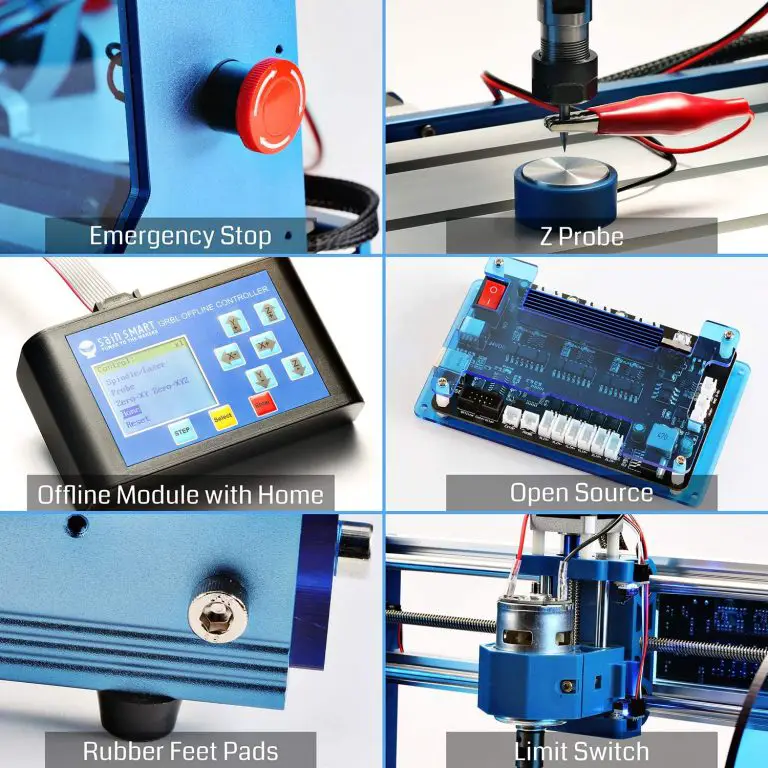 The emergency stop button is a feature that every CNC should have but unfortunately, many of the low-end machines skip this item. Imagine making an error in your program or setup and all of a sudden, your machine is trying to drill into itself or even a clamp holding your workpiece. Being able to hit an emergency stop is a welcome safety feature that may just save your machine, your tooling or at least your workpiece.
Limit switches to stop your machine from crashing into the ends of its travel provide some useful protection as well. It should be easy to see why safety features are often at the top of the list when it comes to upgrading your machine.
While the Z axis probe setter and larger offline controller aren't quite as essential as the safety features we just noted, they do provide some nice quality of life improvements. The probe setter speeds up setup time and simplifies the process.
One thing to note is that if you plan to always have your CNC hooked up to your computer, then the bigger controller will not be of much help, but if not you'll be happy to have a larger, more versatile display.
Overall, the 3018-PROVer is the same machine as the PRO version but with upgrades that are essential to the use of the machine. The upgrades aren't required but many will find themselves picking them up in the long run. If budget is your main concern, go with the PRO version and pick the upgrades up one by one at a later date. However, if you can swing the extra dollars, you'll be glad you did to make things simpler and maybe a little bit safer as well.
Pros
Extremely cheap
Aluminum frame

Cons
Assembly instructions are pictures only
Working Area: 300mm x 180mm x 45mm = 11.8" x 7.0" x 1.7"
Weight: 17.1 pounds
Materials it Will Cut: All types of plastics, soft aluminum, woods, acrylics, PVC, PCB
Warranty: 1 year
If you're new to CNC machining and you just want to test the waters with CNC, then the VEVOR 3018 is for you.
It's rare in CNC that you can spend under $200 on a machine that is actually going to work and be able to perform some useful work. Obviously, the lower the price means lower capabilities, but you don't necessarily need a fancy machine with all the bells and whistles if you're just starting out.
One perk of the VEVOR is that it has an aluminum frame instead of the plastic frames you see on other super budget models. The aluminum frame helps to reduce vibration, which makes the machines more accurate.
Another great feature of this machine is that it has a fail-safe mechanism built into it. If you're running a program and the machine senses drag along the x or y axes, the machine will stop itself. This isn't foolproof, but it just might save you from breaking bits. It will also help to teach you what the upper limits of the VEVOR are. If you're brand new to CNC, learning to feel out the limits of your machine will be useful.
One piece of advice for the VEVOR would be to stay away from cutting any metals or thicker pieces of wood with this machine. It is not a workhorse. Engraving is okay, but you are likely to run into trouble when trying to work with harder materials or deeper cuts.
Though the manufacturer may boast about the power of the VEVOR, this machine is really better suited as an engraver, which is okay given the price.
Another tip for the VEVOR is to look up some DIY upgrades for the machine on YouTube. There are a lot of small things you can do yourself to the VEVOR to get an extra bit of power and precision out of the machine.
Overall, the VEVOR CNC is a machine for pure value.
Given its capabilities as an engraver and occasional cutting tool, it can be considered a really good entry-level CNC machine. If you're looking for the best value and/or cheap CNC machine, this is it.
MYSWEETY 2 in 1 CNC 3018 Pro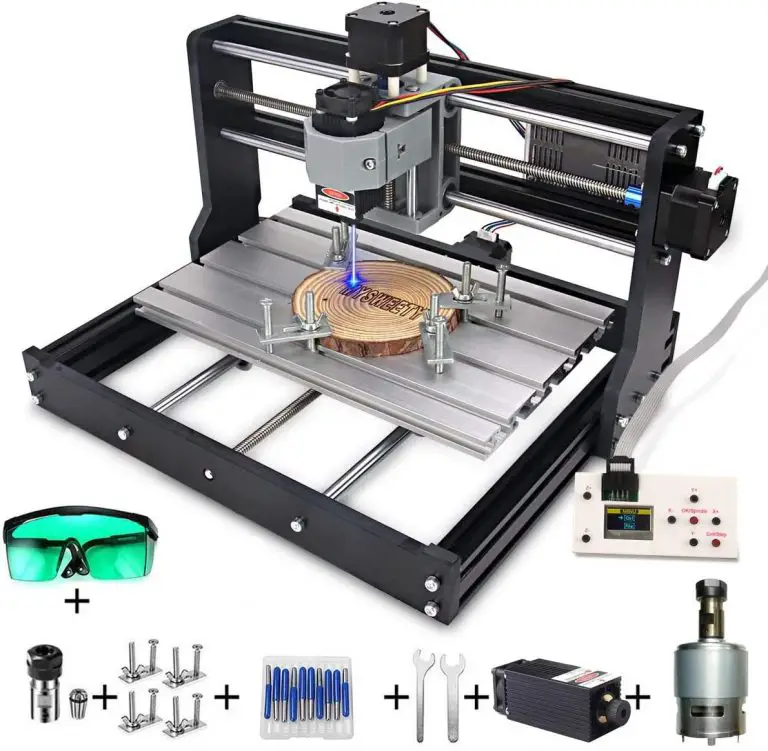 Pros
Comes with a laser
Easy assembly

Working Area: 300mm x 180mm x 45mm = 11.8" x 7.0" x 1.7"
Weight: 15.82 pounds
Materials it Will Cut: plastics, woods, acrylics(Only suitable for spindle milling cutter engraving), PVCs, and PCBs
Warranty: 1 year
One thing that makes this MYSWEETY 2 in 1 so great is, well, it's 2 in 1. Unlike most beginner machines, this one comes with both an engraver and a laser, which gives you a much wider range of projects that you can work on.
The MYSWEETY gives you a lot of versatility compared to other CNCs at a similar price point, making it the best affordable CNC/laser engraver combo on the market.
 Another plus side to this machine is the assembly time. Most people have said they clock in at around an hour for assembly, though it could be a little longer if this is your first time putting something like this together. Like most of these entry-level CNCs, if you get stuck during assembly, you can hop on YouTube or Facebook and find some solid instructional videos.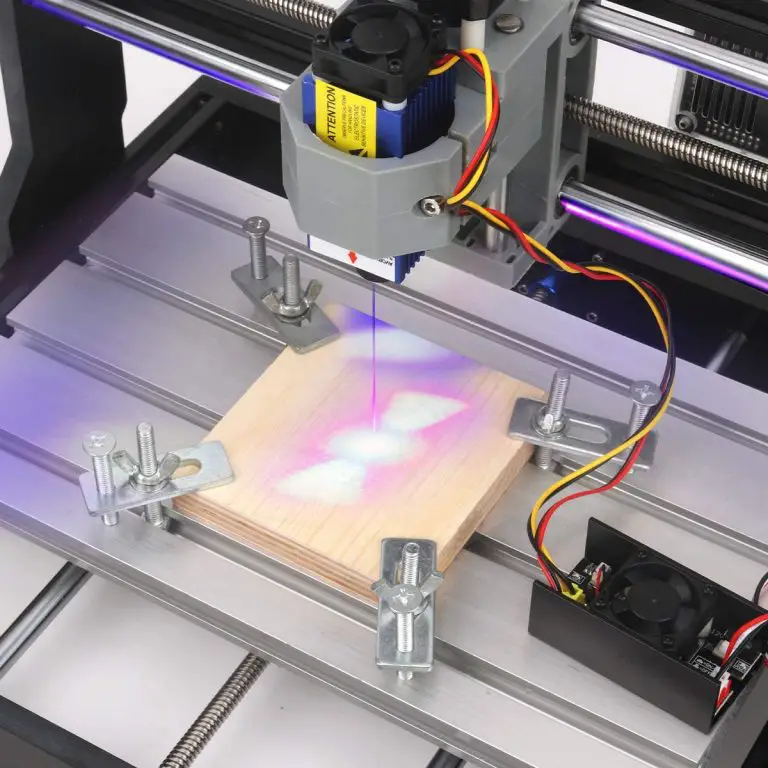 As for the machine itself, it is a little unfortunate that the frame is not metal. Instead, it boasts a plastic frame which can lead to a bit more inaccuracy when you start pushing the machine to its limits. With that said, the plastic is a phenolic resin which is pretty rigid stuff.
Overall, a plastic frame isn't ideal, but it's also not necessarily a reason not to buy the MYSWEETY.
If you're mostly looking to do woodworking, then this is a really solid machine for you to use. Between the engraver and laser, you'll gain a good feel for how woodworking operates at the CNC level. While the MYSWEETY is mostly designed for wood, you can venture out to other materials such as plastics if you're careful. However, you really should avoid working with any kind of metal with the MYSWEETY – that is just not what this machine is meant for.
MYSWEETY themselves advertise this machine as one for "the absolute beginner," and that is correct. If you're new to the CNC world, and you want to get some experience in both carving and laser projects, then the MYSWEETY 3018 is going to give you the best value on the market as far as combo machines go.
BobsCNC Evolution 4 CNC Router Kit
Working Area: 610 mm x 610 mm x 85 mm = 24" x 24" x 3.3"
Weight: 42 Pounds
Materials it Will Cut: Wood, plastic, soft aluminum, acrylic, PCB, leather, others possible with experimentation
Warranty: 90 Days
If you're looking to do larger projects but you're still working on a budget, BobsCNC Evolution 4 is the machine for you. While it isn't as cheap as the other options we detailed, this machine is more than worth it.
When reviewing CNC machines for home use, you'll quickly realize that prices shoot up significantly as the machine size increases. Many have hopes of woodworking projects only to realize that the signs they want to make simply aren't possible with cheaper machines. The Evolution 4 provides the needed capabilities while still managing to keep the cost down.
When it comes to the Evolution 4, the first thing most people note with this machine is the setup. Unlike most beginner CNCs, you're going to have to assemble this thing piece by piece, screw by screw.
For most folks, you're going to be looking at around a full day – possibly a little bit more – before the E4 is up-and-running and ready start your project. However, for many users the assembly is part of the fun. The assembly is certainly more detailed but has the added benefit of getting you intimately familiar with the workings of the CNC router.
As usual, if you get stuck during assembly, you can go onto YouTube and find some helpful tutorials, but the routers from BobsCNC have an added bonus: absolutely top-notch customer service. BobsCNC is famous for being the gold standard in customer service.
If you drop them a question – be it about assembly or a project you're working on – they'll get back to you with a speedy, meaningful response. You can tell this company truly cares about its customers and their customers CNC experience.
Once you have the Evolution 4 working, you may notice that it's a little louder than other entry-level machines. What you're hearing is the power. Running on a Makita RT0701C router, part of what you're paying for with the Evolution 4 is this machine's capability.
With the Evolution 4, you can work on a really wide range of materials from wood to leather to soft metals such as aluminum.
It costs quite a bit more than our other budget options, but the added cost substantially increases the capabilities.
If you want to work on larger work with your CNC router such as making big signs or something similar, then you'll find that the Evolution 4 is a very capable machine that provides great value for the price.
Things to consider when purchasing a CNC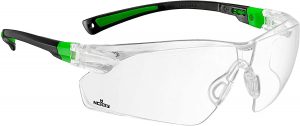 Safety first. Safety second, third and fourth. You really shouldn't be operating any of these machines without a pair of safety glasses. When cutting and engraving, these machines move materials at a high velocity, and getting something in your eye could lead to serious damage. If you don't have them already, you'll definitely need to buy some safety glasses along with your machine.
You should be very much aware that these are powerful cutting tools. Treat them with respect.
These machines are pretty useless if they don't have anything to engrave, so remember that you're going to need to buy materials to machine.
Materials will vary in cost but most of these machines are designed to work with wood. Different woods will cost different amounts, and if you're attempting to cut metals, some will be pricier than others. Also, if you're new, it's a good idea to over-buy on the cheaper materials because CNC machining takes some learning, and you're bound to mess things up. Practice makes perfect and you are bound to mess some of your first projects up.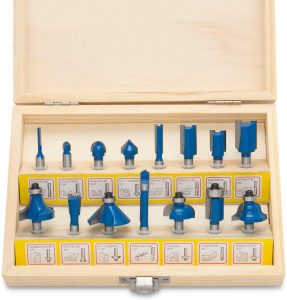 Just as you'll mess up with materials, you'll mess up and break bits. It happens to us all. This is especially true if you're using the bits that come with the machines because those bits are usually on the cheaper end. You should plan on purchasing some extra bits at some point if not immediately.
One thing to think about also, is your work holding accessories. Most of these machines come with clamps, but the clamps may not be enough if you start pushing the machines to their upper limits. Higher quality/easier to use clamps will be a welcome addition at some point.
You may also buy a machine without a laser, and somewhere along the way, you'll want one. Or perhaps you'll want a work-area extension or a more powerful spindle. It isn't easy but try to think about what you ultimately want to be able to accomplish with your machine. Often it is better to upgrade your capabilities from the outset until patching on upgrades.
As we talked about in the bit on safety, when these machines are working, there is a lot of excess material flying around. In other words, expect a good amount of dust.
At the very least make sure you have a shop vac handy to clean up. A dust boot or shoe will help also, especially with larger machines. Cleaning is going to cost you some money, keep it in mind when purchasing.
If you don't know much about software, you're not going to be able to easily operate any of these machines. Most entry-level CNC's will use Universal Gcode Sender (UGS) software platforms. You can easily find this open-source code for free on the Internet.
Most machines are also going to use GRBL software to run the machine.  So, for example, you can use Fusion360 to create your project design, then have Fusion360 communicate the code to UGS, then from UGS to your machine.
If you're new to coding this may all take a bit trial and error, so tinker around with the code and the machine until you're comfortable. When in doubt, you can always search YouTube and Facebook for tutorials and guides to help you out with the software aspects of CNCing.