CNC machines have been in use for decades and most people associate them with the metalworking industry. But for many years they have been used by amateur woodworkers to machine a large variety of projects.
CNC technology, just like 3D printers has found its way into the homes and garages of people throughout the world.
Below we have outlined the best CNCs for woodworking. CNC machining can be a daunting task for many, so our picks lean more towards the beginner CNC woodworker and place an emphasis on ease of setup and use. These two aspects in particular make it easier to unlock the full potential of your CNC router so read on to find out which models top our list.
BobsCNC Evolution 4 CNC Router

Best Overall Woodworking CNC

SainSmart Genmitsu 3018-PROVer

Best Desktop Woodworking CNC

MYSWEETY DIY CNC 3018-PRO

Best Woodworking CNC/Laser Engraver Combo

Best Woodworking CNC under $1,000, 

Best Woodworking CNC for Aluminum
Pros
Heavy-duty machine with a lot of capabilities
Large work area
Excellent customer service

Cons
Assembly is not quick
Work Area: 610 mm x 610 mm x 85 mm = 24" x 24" x 3.3"
Machine Size: 990mm x 810mm x 530mm = 39" x 32" x 21"
Weight: 42 Pounds
Materials it Will Cut: Wood, plastic, soft aluminum, acrylic, PCB, leather, others are possible with experimentation
Warranty: 60 Days
While still an entry level machine, BobsCNC machines are a cut above the rest. Their machines are typically more heavy duty, capable of cutting more materials, and are more expensive than other entry level machines. While this machine can cut a large variety of materials, including soft aluminum and leather, CNC wood routing is easily BobsCNC's specialty.
When looking at the E4 machine, you should be aware that setting the machine up will take a good deal of time. Unlike most other beginner CNC machines, the E4 does not comes pre-assembled.
You should plan on assembly taking up most of an entire day. Keep in mind, though, that when assembly is this intense, you really get to know a machine well, which will be super helpful if you're a beginner.
Additionally, the instruction manual is highly detailed and thorough. The assembly isn't necessarily difficult, but instead is simply time consuming. Luckily, if you come upon any roadblocks, you can find an abundance of guidance on YouTube and Facebook to help you along.
But if you are facing any big obstacles during assembly – or even long-after you've got the machine running – BobsCNC has a great reputation for top notch customer support and service.
Call or email them, and you are guaranteed to get a quick response, and a simple solution to whatever problem you may be facing. As a matter of fact, Bob himself has been known to respond to users seeking help frequently.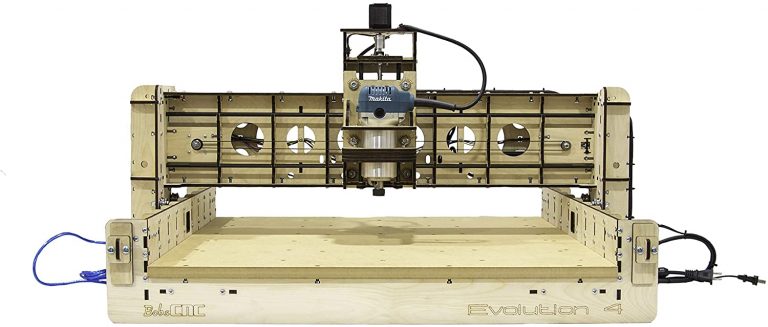 Keep in mind that this is a big and powerful machine. As such, it can create more noise than other, smaller entry level machines. It can also create a large amount of dust and chips when it's working, so be sure to have a shop vac ready to clean up or better yet, a dust collection system in place.
The E4 is the type of machine that you would normally want to store in a garage or workshop instead of inside your main living area.
This is a heavy-duty machine and you can expect it to be louder and a bit messier, but because it is such a solid machine you can also expect it to perform quality work for a long time to come. The E4 is a real workhorse, and many customers have found the machine to last for ages.
The BobsCNC Evolution 4 is an excellent option for a woodworking CNC. The setup will take more time than our other recommended options but there is a substantial payoff in the end. The expanded work area and power of the machine will allow a much larger variety of work than smaller machines.
Work Area: 300mm x 180mm x 45mm = 11.8" x 7.1" x 1.7"
Machine Size: 400mm x 330mm x 240mm = 15.7" x 13.0" x 9.4"
Weight: 21.4 pounds
Materials it Will Cut: Plywood, MDF, PCB, acrylic, nylon, carbon fiber and soft metals
Warranty: 1 Year
If you're looking to get your feet wet with CNC machining, but don't want to jump all the way in quite yet, then the SainSmart Genmitsu 3018-PROVer is a good place to start.
For a sub-$400 machine, you get a lot of value from the PROVer.
For one, the 3018 PROVer will arrive at your door largely pre-assembled, so you won't have to spend too much time putting the machine together.
It might take you longer to put together than the 15 minutes that SainSmart advertises, but you should be able to put this together fairly quickly, and there are plenty of YouTube videos out there to give you a hand if you get stuck.
While this machine is pretty powerful for a beginner machine, one common review from users is that it is fairly quiet. If you live in an apartment and you don't have to worry about your neighbors making a noise complaint, the 3018-PROVer makes a great option. 
Another great feature of the PROVer is the aluminum frame. For a budget priced machine, having a sturdy metal frame is a big bonus.
A solid frame helps to reduce any vibration from the machine, which makes the machine more accurate, and works to reduces noise.
Along with the aluminum framing, the machine has acrylic safety baffles which help stop dust from spreading while you're working, making clean up a bit easier and faster. A welcome addition for anyone who plans to run this CNC indoors.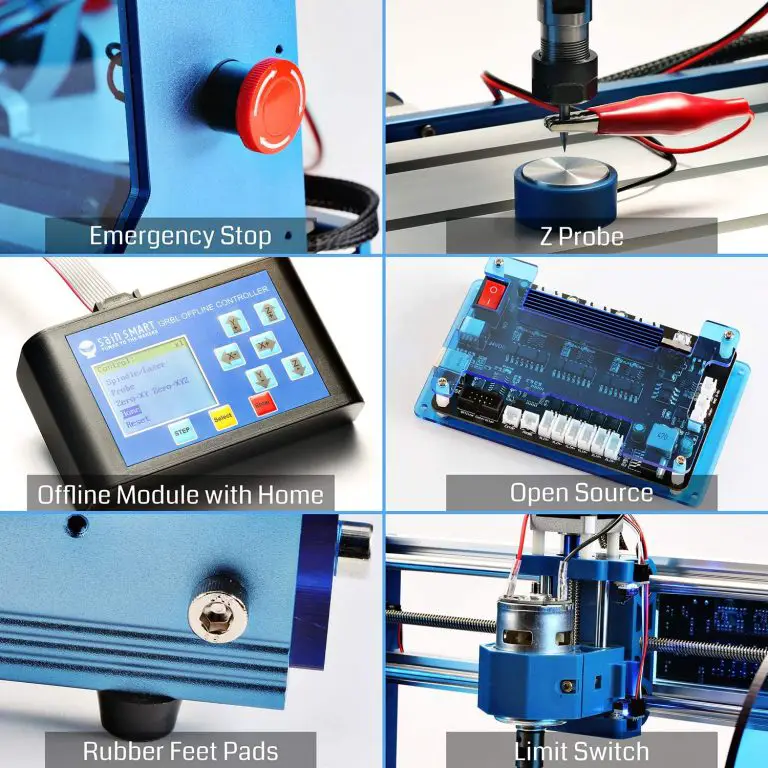 Another great feature of the PROVer is the easy to see, easy to access shutdown button.
This big red button on the side of the machine makes triggering an emergency shutdown super simple. From experts to amateurs, mistakes are going to happen, so such an obvious emergency stop button will come in handy. This is a feature that all full blown industrial CNCs have and for good reason.
When you hear something start to go wrong with your run, and trust me, you usually hear it before any other warning signs. The stop button just might save your project or cutter tools.
Other safety features of the PROVer include hard stops, and limit switches to keep the machine from coming off the rails, literally. The limit switches will tell your machine to stop safely when your custom CNC program attempts to move the cutter three feet off your dining room table.
SainSmart has done a good job including many of the 3018 series CNC upgrades and accessories that people find they want after purchasing such as an offline controller, which will allow you to run the machine without needing to have a computer attached.
Overall, the 3018 PROVer is a top notch, entry-level machine that is especially useful if you're looking to start smaller wood carving and wood cutting projects and is more than capable of tackling other materials of similar hardness.
Work Area: 300mm x 18mm x 45mm = 11.8" x 7.1" x 1.7"
Machine Size: 330mm x 400mm x 240mm = 400mm x 330mm x 240 mm = 15.7″ x 13.0″ x 9.4″
Weight: 15.82 pounds
Materials it Will Cut: Wood, bamboo, paper, ivory, leather, flammable plastic, PCB, acrylic, ceramic/stone, metal surface paint, metal surface plating
Warranty: 12 Months
The MYSWEETY 3018-PRO is truly a beginner CNC router for woodworking. The machine is easy to get started with, but it can't handle some of the difficult materials that more powerful CNC routers can. Luckily, all can be forgiven when you look at the price.
If you're looking for something to introduce you to the world of wood cutting and wood carving, the MYSWEETY will do that and more.
While this machine does not come pre-assembled like some other models, putting it together is not all that difficult. Set up time should take most people between one and two hours.
Setup is made even easier because there is a large selection of videos on YouTube that can help guide you through the process.
The machine's frame is primarily made out of metal, so you know it is going to be sturdy. But even the gantry (crane type bridge), which is made of plastic is solid. It is made using phenolic resin, which is extremely strong stuff. For a CNC woodworking machine on the cheaper end of the price range, the MYSWEETY is surprisingly well built.
The MYSWEETY also has the benefit of being ready to laser engrave wood projects as well as CNC routing. Unfortunately, the machine has an issue where the laser module's focus lens fits loosely. This can make it too easy to accidentally turn resulting in poor engravings from the laser not being focused properly.
No worries though, a small bit of Teflon tape on the threads will allow you to fix this problem yourself.
The biggest downfall of the machine is that it does leave a little bit to be desired if you want to work with something beyond wood.
It is just not all that powerful, and you shouldn't try to push this machine too far. It will work well with wood and softer materials but don't expect it to work well with even soft metals such as aluminum.
All in all, if you're looking to get started with CNC routing and woodworking as a hobby, this is a good machine for just that. The laser engraving module makes a big plus as well.
The MYSWEETY CNC is a budget friendly option that is capable of producing some pretty cool woodworking projects.
Pros
Power
Solid frame reduces vibrations and increases accuracy

SainSmart has created one of the most recognizable introductory CNC machines with its 3018 PROVer. Everything that SainSmart has been able to pull off with their flagship 3018 CNC has been replicated and upgraded on the PROVer XL 4030.
More power, more work area and more options for increasing the capabilities of the machine down the road as branch out into different projects.
Like the smaller 3018 PROVer, the 4030 comes mostly pre-assembled. Assembly is easily accomplished, just don't expect it to take the 15 minutes that SainSmart quotes it at.
Not only is this 4030 CNC one of the best woodworking CNCs available but it is also one of the most common. This means there are plenty of quality YouTube videos to help you along the assembly process and beyond should you run into any stumbling blocks.
All in all, the SainSmart 4030 can be assembled, fired up and be cutting or engraving in no time at all.
As mentioned earlier, this machine is powerful. A great benefit that many lower end machines don't have.
While the PROVerXL isn't an industrial shop-level machine, if you're a hobbyist or a small business owner you should still be able to get some good mileage out of this CNC.
The PROVerXL 4030 will cut a wide assortment of hard and soft woods, as well as plastics, foam, vinyl, and even aluminum. Keep in mind that if you plan on working with materials on the harder end such as aluminum, they will likely take more trial and error whereas you'll find it difficult to run into trouble working with wood of any kind.
This machine also has the structure to match its power. The frame is made entirely out of aluminum. The rigidity this provides helps that you don't sacrifice power for accuracy. With the 4030, you won't have to worry about vibration or shaking which can result in poor surface finishes or decreased accuracy, even if you're engraving metals.
As far as workspace goes, this machine is definitely bigger than the 3018, though in its original form you'll still be limited to relatively small projects. However, there are some really nice upgrade kits that you can purchase for the machine.
Kits to expand the machine work area to 24"x 24"( 600 x 600mm), and up to 40" x 40" (1000 x 1000mm) are available. And for even more versatility in terms of what you can make with this machine, there is a  rotary 4th Axis and a high powered laser module available as well.
If you want to get started with CNC woodworking and have the ability to work with more difficult materials in the future, the PROVer XL 4030 is the right machine for you. It also makes a great upgrade for those who are already familiar with the 3018 series because the added power and capabilities will expand what is possible to make with your CNC.
Things to consider when purchasing a woodworking CNC
CNC routers will come in a variety of assembly stages. Some machines will come almost entirely assembled for you, while others make you put together every last part.
For some people, assembling a machine is part of the fun. Many times, it can help you learn about your new tool.
For other people – especially beginners – you will want something that is practically ready to use out of the package. Preferences will differ but keep this in mind when reviewing the different options available. Assembly difficulty is certainly a factor to keep in mind.
Yes, these are entry level machines, and yes, some are more powerful than others. Take note though that any one of these CNC routers is capable of cutting not only your wood projects, but you as well!
Be sure to read the instructions, and if this is your first time working with a CNC machine then ease into it. Also, as with all woodworking, chips and particles are bound to fly around, so make sure you're wearing eye protection if you plan on getting close while the machine is operating.
Laser engravers present their own safety hazards as well so make sure you are using any and all proper personal protective equipment when operating these as well.
Naturally, the bigger the work area of a machine, the bigger the project you can do with that machine.
Since these machines are on the entry level side of things, none of them are overly big. Keep the size of your projects in mind when shopping for a new CNC for your woodworking project and if you need something truly massive, think about purchasing one of the upgrade kits available for many machines or stepping up to a 4'x4' or 4'x8' CNC router.
 On the flip side, the smaller work area for some of these machines means they are easier to move around and locate in your work space.
It's also important to remember that the overall size of the machine is not the same as the work area of the machine.
For example, the SainSmart PROVer 3018's overall size is 420 x 340 x 280mm, but its work area is only 260 x 155 x 35mm. That's a big difference, so make sure you're reading the machine specs carefully.
There is a large variety of software that gets used on these machines. Covering them all would be a giant topic by itself. To get you started here is a quick rundown:
CAD or computer aided drafting is software that will allow you to create models to machine or engrave. This is only a drawing and needs further processing before your machine will know what to do with it. The most commonly used CAD software are Fusion 360 and Tinkercad
CAM or computer aided manufacturing is the software that takes your model and turns it into code that your CNC will understand. If you are familiar with 3D printers, CAM software is similar to slicing software. The most common CAM software are Fusion 360, CamBam, SheetCam and MeshCam.
A good starting point is to look into Fusion 360. It has an enormous number of tutorials on YouTube. You are likely to find help for any issue you run into and there are many guided courses on use of the software.
When a machine has a sturdy frame – one made out of metal, like the Genmitsu PROVerXL 4030 for example – this is always better than a machine made using wood or plastic.
A solid frame will reduce the shaking of the machine, which makes the cuts and engravings more accurate. Reduced vibration will also make the machine quieter when it's running. A welcome addition for anyone trying to create woodworking projects in their home.
Speaking of noise, you may also want to keep this in mind.
More powerful machines will allow you to run more types of projects, but generally they are much louder as well.
If you're working in a confined area, such as an apartment or townhouse, it may be better to start with a smaller, quieter machine. Maybe you don't like your neighbors, in that case go all out and get yourself a full-blown industrial model.
Different materials will require different cutters, and the type of cutter you use can make all the difference when it comes to your woodworking projects.
Most machines will come with a few cutters for you to use right out of the box. These bits are universally found to be low quality, but if you're a beginner they will do the job. It's better to bust one of these starter bits than the more specialized and capable cutters you will eventually step up to.
Gain some experience with the included cutter or purchase a cheap starter set, and when you're ready you can buy separate, more specialized versions.
Customer service is crucial. CNC machines can be complex, and you may run into difficulties with assembly or operation, especially if you're new to CNC.
We place a priority on customer service and look to recommend machines from manufacturers who are quick to respond and assist with any problems.  If you are intimidated by the process of getting started with CNC woodworking, we advise you to look for model specific YouTube videos so you can educate yourself and build some confidence in your ability to work through the assembly and operations of the machines.
For more information check out these related articles: