For your project to be truly complete, you have to smooth down any rough cuts and remove the burrs from any raw edges or holes. This is not only going to make your projects look better, but it's going to make them safer as well; there won't be any jagged edges that can cut your skin or tear your clothes.
This is where a deburring tool is comes in handy. While there are countless deburring tools on the market, we've made picking a tool easy for you.
That's because we've scoured the internet, read all the reviews, and have some experience ourselves, and we've found the five best deburring tools on the available.
| | | |
| --- | --- | --- |
| | | |
| AFA Tooling Deburring Tool Kit | Best Overall Deburring Tool | |
| YXGOOD Hand Deburring Tool Kit | Best Value Deburring Tool | |
| | Best Ultra Cheap Deburring Tool | |
| Mavast Aluminum Deburring Tool | Best Deburring Tool for Metal | |
| ORX Plus Tools External Deburring Tool | Best External Deburring Tool | |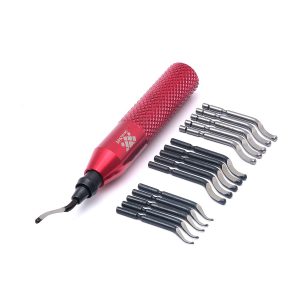 AFA Tooling Deburring Tool Kit
Pros
Cuts a wide variety of materials
Aluminum handle
One-year warranty

One thing we really love about this deburring tool is just how versatile it is.
This thing will help you deburr all kinds of materials from brass and steel to aluminum, copper, PVC pipe, wood and more. It also works well on plastics without melting them and does a good resin art too.
With so many different applications and coming in at such a reasonable price, it's easy to make this our best overall deburring tool.
The kit, which is really just the tool and extra blades, comes with 15 blades. This includes 5 each of 3 different types. Each type works well with different materials.
One set of blades is for softer materials such as copper, wood, and plastic. The next set is for medium harness materials including aluminum, brass, and steel. The last set, which is designed for more difficult materials works well with stainless steel, tungsten, and other similar metals.
When you pick the right blade for your material, it will improve the finish of your break edge or chamfer that you are applying to the part.
Beyond its versatility, this deburring tool is also going to last you a long time.
The knurled aluminum handle provides superior grip and lends an overall solid build quality to the tool. This deburring tool can take a beating and still get the job done. Plus, with the extra replacement blades, you won't need to worry about purchasing anything else, even if you do roll it off your workbench onto the concrete.
This tool from AFA Tooling comes with a swivel head which comes in handy for a number of different reasons. For any of you lefties out there, you can purchase this tool without having to worry about how you'll hold it or risking using it with your right hand. The swivel head also means you can deburr your project, even if it has some weird angles or hard to reach places.
Lastly, when you buy this AFA deburring tool, you get a one-year warranty. Given the number of materials this tool can work with, the replacement parts, the swivel head, the warranty, and the price, we think this is the best overall tool on the list.
If you're looking for a mix of utility and price, you can't go wrong getting this YXGOOD deburring tool kit set.
For one, it can be used on a fair amount of materials, including plastic, copper, aluminum, silver, and wood. While this list may leave out some of the harder metals, given what you're going to pay for the tool, that's more than fair. Additionally, you can pick up some replacement blades that are meant for harder materials if you find you need them down the road.
Speaking of replacement blades, the tool comes with 10 of them, all of which are HSS (high speed steel). This means that the blades will work on a good number of metals without dulling too quickly.
Also, like many of the nicer deburring tools, this one has an aluminum handle, so you know it's going to be a nice and sturdy tool.
No one wants to bust a plastic handle while zipping along, deburring the edges of their parts.
Also similar to nicer models, this tool has a 360-degree swivel head, so you can use it whether you're a righty or a lefty and it can be used in all kinds of strange angles and in the nooks and crannies that might be hard to reach with a tool that doesn't have a swivel head.
All in all, this YXGOOD hand deburring tool is a really nice addition to your toolkit.
The only negative here is that the deburring tool can't cut through quite as many materials as the tool above, but, again, given the price of this tool, that makes sense. Remember, you can always get some more robust replacement blades if you find you end up needing them.
If you want to get the most value out of your dollar, we recommend this deburring tool.
Best Ultra Cheap Deburring Tool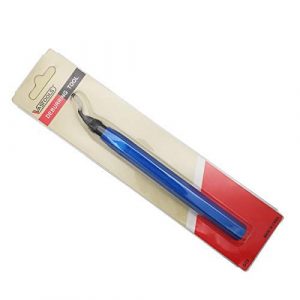 Pros
Low price
Swivel head

Cons
No replacement blades
If can swing a few extra bucks, I definitely recommend going with one of our other recommendations. Let's face it, these aren't the most expensive tools under the sun.
While 50% more expensive may sound like a lot, when some of the tools can be had for under 10 bucks, it really isn't that bad.
With that said, maybe you do need to pinch every penny. Maybe your significant other is a little cranky because you just laid out a decent chunk of cash for that new 3d printer. Every situation is different. I get it.
If this sounds like you then this deburring tool from VASTOOLS will likely get the job done well for you. In fact, working with 3d printed plastic and similar soft materials.
Where this tool will start to struggle is if you start trying to work with anything much harder than aluminum.
The fact that it can work with metals at all is excellent for a deburring tool on the cheaper end of the spectrum.
It also features a swivel head like our other recommendations as well as an aluminum body. When you start looking at tools in the ultra-budget category, you're going to quickly see that most aren't built as well and can be pretty limited in the materials that they can work.
Above all, we recommend making sure to get a deburring tool with a swivel head. It makes deburring in tight spots much easier and this tool is about as cheap as you can go and still get this feature.
Best Deburring Tool For Metal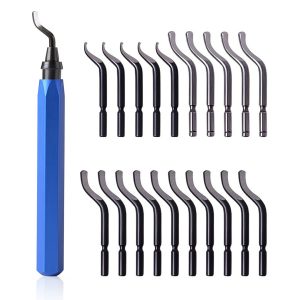 MAVAST Aluminum Deburring Tool
Pros
Comes with multiple blade types
Excellent customer service

If you already know that you're going to be doing a lot of projects with metals, you should really consider purchasing this deburring tool from MAVAST.
While it is more than capable of cutting wood, it can also easily deburr stainless steel, steel, copper, aluminum, plastic, PVC, and tin. And this is not just the manufacturer hyping up their own product, numerous other reviewers have testified that this tool can cut through hard metals without leaving behind any chatter and or gouging of their project.
Harder materials will dull up your blades quicker which is why this kit is great for metals. It comes with a whopping 21 different blades. This includes 11 standard HSS blades,5 BK3010 black HSS blades, and 5 BS1018 silver HSS blades, suitable for cutting stainless steel and other hard metals.
With this much versatility and toughness, you absolutely need to buy this deburring tool if you plan on mainly using metals. You'll be glad you have ample replacement blades and the right blade for your material as well.
This tool also comes with many standard features you would expect, such as the swiveling head so that both right-handed and left-handed users can operate with the tool without a problem.
Another nice thing about purchasing a MAVAST tool is their customer service. The company has a great reputation for helping customers with any questions that come up. If things aren't working like you planned with your project, it is always nice to get some quick support.
Best External Deburring Tool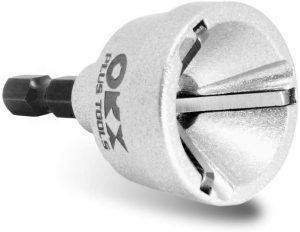 ORX PLUS TOOLS Deburring External Tool
Pros
Works with wide variety of materials

While these external chamfer/deburring tools have a little bit more of a limited use, that does not mean it's not worth keeping one in your toolbox.
If you're unfamiliar with these tools, they're ideal for repairing damaged bolts and tightening nuts in their place. This means you don't have to replace expensive or hard to find bolts, which can save you some cash – and some frustration – in the future.
To use this tool, you simply place it on the end of your drill. But be sure that you use an extremely low speed while you're using it, or you could make the damage worse.
This particular ORX tool only works if you use it in a clockwise direction. Further, it works on a really wide range of materials, including stainless steel, hardened steel, mild steel, copper, brass, aluminum, fiberglass, wood, and plastic.
There is one downside to the tool, and that is the edges cannot be sharpened. With that said, because it isn't an everyday use tool for most people, you'll likely find that the tool never needs to be sharpened anyways. 
All things considered, we like this deburring tool because even though it has a limited range of uses, it does exactly what it is supposed to and does it well.
Things to consider when purchasing a deburring tool
If you're right-handed, you're a bit luckier as far as this goes. Most machines and tools are made with right-handers in mind, so it's the lefties that have to do the extra research.
Luckily, all of the tools in this article come with a swivel head, so you can adjust the deburring blade to fit whichever hand is dominant.
However, this may not be the case for all tools, so be sure to check the specs. If you're a lefty and you don't see a swivel head, you should probably reconsider buying the tool.
Even if you're just a hobbyist, you're eventually going to wear out the blade on your deburring tool. So while you may save money upfront by not buying a tool with replacement blades, eventually, you'll be out of luck.
Many deburring tools online will come with extra blades, and it may be worth the extra investment.
As always, don't discount customer service. You may need to return an order, or you may have questions about how to use a tool, and when a manufacturer answers your questions promptly and respectfully, that's always nice.
You can also usually tell the level of customer care by how well a package is wrapped when it arrives at your door. The shipping process can take a beating on your tools, and if they aren't well wrapped, this can significantly lower the lifespan of your tool.
A well-packaged tool tells you that the manufacturer really cares about quality service.
Deburring tools are fairly straightforward, but that doesn't mean you should go with any old tool. As we noted above, all tools are certainly not created equal.
Our best overall choice from AFA Tooling does a wonderful job working with a good range of materials and packaging that capability up in a solid body that is built to last.
One last note, keep in mind the types of materials you plan on working with and how much use you plan to give it. The blades you get will make a big difference in the success of any of your projects or builds.
Pick a high quality deburring tool and you won't be disappointed. Not only does it add a nice, professional finish to your project, but it can help with safety too. No one wants to get cut or tear a piece of clothing on a jagged edge. Deburr it!