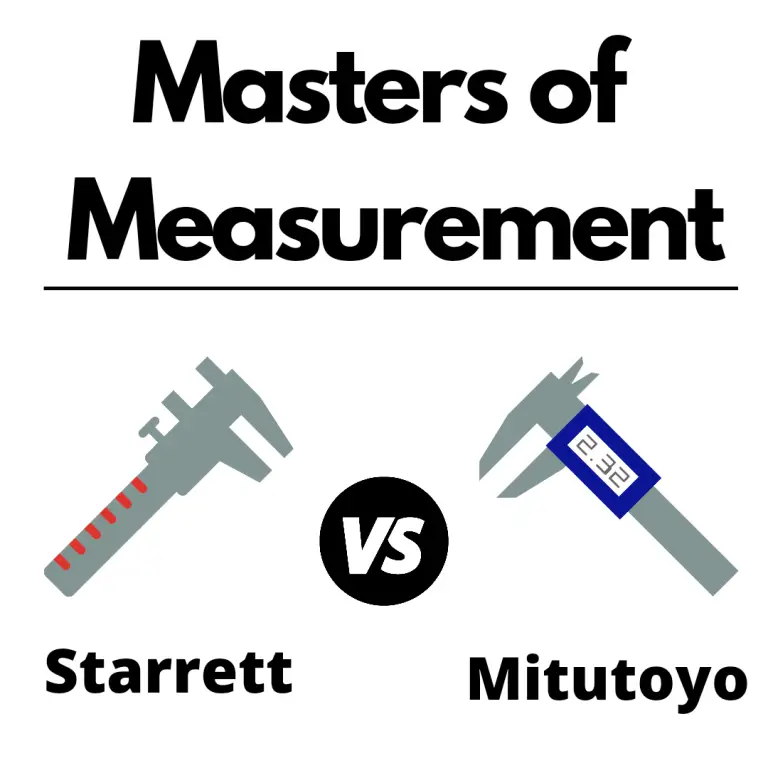 American precision measuring toolmaker, Starrett and her Japanese counterpart Mitutoyo are arguably the top players in the $25 billion measuring equipment market. Both companies boast rich production histories, and their tools are lauded for accuracy, dependability, and durability. 
Sure, there are dozens if not hundreds of measuring tool manufacturers but…
Let's be real. These two are the best of the best.
We are going to take a look at the most popular measuring tools from both companies to find out how they stack up against each other. Spoiler! They both have their specialties.
But first let's dive into a quick overview of the two companies because to many people, where the tools are made says more about the quality than any spec sheet ever could.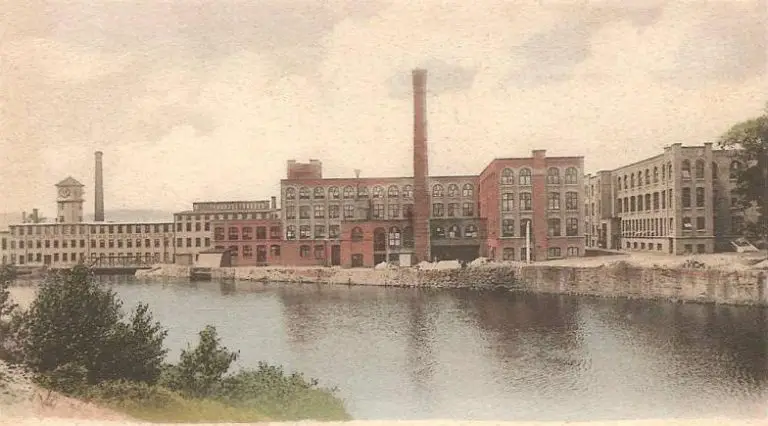 Starrett is old.
Like 140+ years old actually, but age is just a number right?
Well, with all those years Starrett has had plenty of time to perfect their tool making business. While we are going to focus on their measuring tools, they are also well-known for making about 5,000 other tools.
They make everything from precision measuring tools to saw blades, hand tools all the way up to fancy computerized inspection equipment. They make a lot of stuff and overall, they are known for making that stuff well.
While Starrett is headquartered in Athol, Massachusetts, USA, it operates several satellite facilities in different parts of the world including Mexico, Scotland, Brazil, and China. Some argue that those satellite facilities have made Starrett take a step down in quality but in general they have good quality control in place and their tools are still well-made.
Mitutoyo, on the other hand, has yet to celebrate its first century in business. The company was established in Japan around 1934. Fast forward eight decades later, and Mitutoyo boasts a catalog of over 5,000 tools as well.
There tools are more focused on measuring related items and they make less hand tools than Starrett. Mitutoyo manufacturers the majority of their tools in Japan, however some tools are made in Brazil.
Enough history already, right? We're here to talk about their most popular measuring tools. The kind every hobbyist or machinist is likely to be using.
The king of the calipers in my opinion. Digital calipers make for a versatile measuring tool that can take a large variety of measurements. Most are capable of measuring inside, outside, depth and step measurements with an accuracy of 0.001" or .02mm.
Remember that accuracy is the important feature to pay attention to with any measuring tool. Often manufacturers will try to list the resolution, which is the graduations that can be read with the tool. Just because you can read a measurement out to 0.0005" doesn't mean the tool is accurate to that degree.
Now let's look at the features of the digital calipers from both Starrett and Mitutoyo:
Starrett EC799A-6 Digital Caliper

Features:
Made of stainless steel
Measurement range of 6"/150mm
Has an accuracy of +/- 0.001"/0.02mm
Has a resolution of 0.0005"/0.01 mm
Large LCD display
Made in China
Take note that some Starrett calipers are made in the United States. The EC799A is made in China and still comes with a hefty price tag. To get a set made in America will likely set you back double.
We have included the EC799A because it is their standard digital caliper. If you Google "Starrett digital caliper", the EC799A is what pops up. We have done the same with the Mitutoyo digital caliper as both companies make a wide range of calipers.
Mitutoyo 500-196-30 Digital Caliper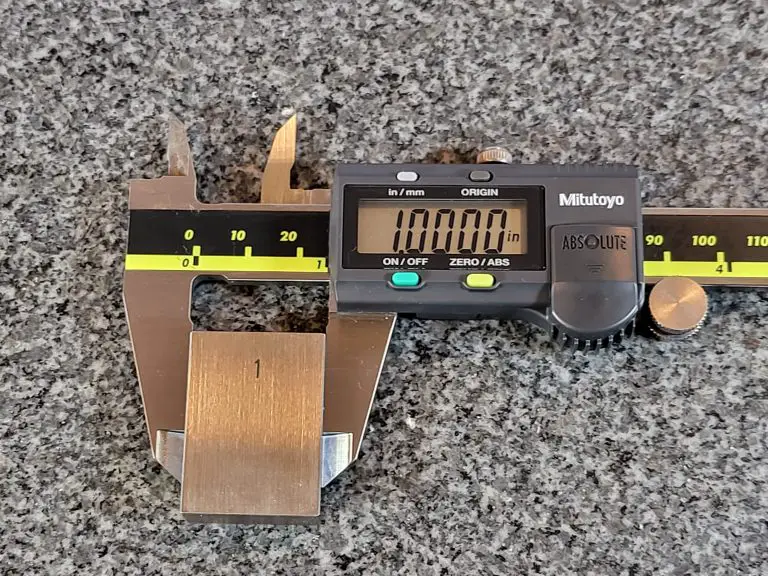 Made of hardened stainless steel
5-year battery life
Measurement range of 6"/150mm
Has an accuracy of +/-0.001"/0.02mm
Resolution of 0.0005"/0.01mm
Large LCD display
Made in Japan
On paper, both tools have very similar stats. In use, the Mitutoyo digital caliper comes out on top with a better build quality, super-fast updating display and extremely long battery life.
Mitutoyo claims a 5-year battery life but unless you are using it all day every day, you can likely expect even longer.
Mitutoyo wins hands down.
Dial calipers are the digital calipers older, less tech savvy brother. What they lack in flash, they make up for in dependability. You'll never pick them up only to find out that your battery is dead and you're fresh out of button cell batteries in your junk drawer.
Dial calipers are capable of almost everything a digital caliper is with the exception of switching between units. A nice feature to have but not a necessity, especially when many people will find themselves always working in a single set of units.
Starrett 3202-6 Dial Caliper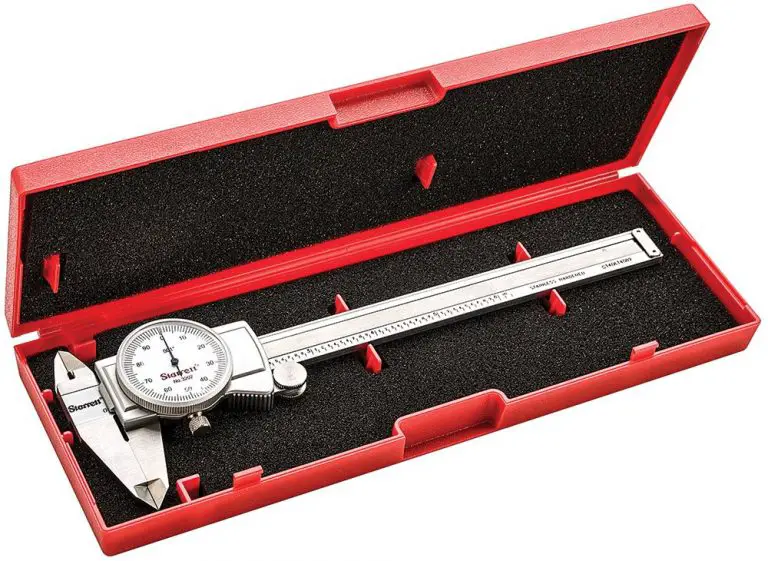 Features:
Made of stainless steel
Has a range of 0-6 inches
Measures to an accuracy of +/- 0.001"
Has a resolution of 0.001"
Just like their digital calipers, Starrett makes a wide range of different dial calipers in various styles and measuring ranges. At the time of writing, they offer 34 different types of dial calipers with 26 made in the U.S and 8 manufactured overseas. 
Mitutoyo 505-742 Dial Caliper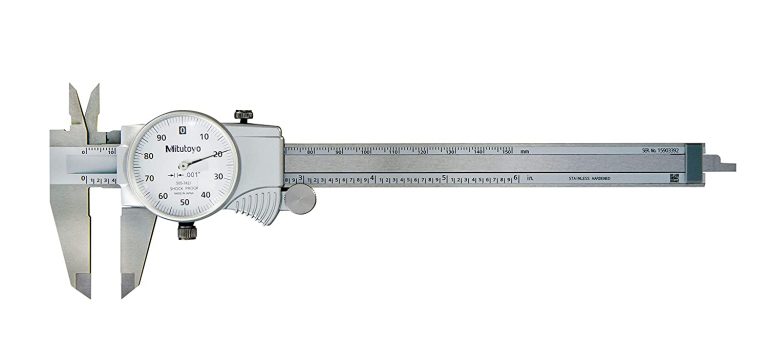 Features:
Made of stainless steel
Has a range of 0-6 inches
Measures to an accuracy of +/- 0.001"
Has a resolution of 0.001"
Do those features look familiar? Yeah, they should. Copy. Paste. In fact you should expect the same of any dial caliper maker. They have been around long enough and almost because standardized. Unless you go with an ultra-cheap plastic caliper, you can expect similar specs from any 0-6" dial caliper.
Note: Mitutoyo has about 30 different types of dial calipers and all are currently made in Japan. 
On paper they are the same. Take a look at the pictures. They even have the same shape and same white dial face. In this case, I would give the edge to the Starrett dial caliper.
I think their action has always been consistently excellent, even on their Chinese made calipers. Also, the fine thumb roll adjustments are a little smoother, but it really is splitting hairs. The Mitutoyo is an excellent dial caliper too.
If you can find a good deal on one go for it but if the price is equal, I say go Starrett for your dial caliper.
Vernier calipers are an interesting take on calipers. They don't require batteries like digital calipers and they don't have precision gear mechanisms that are susceptible to damage either. They are basically just two rulers that have their measurements read where the lines match up.
While these advantages would seem to make them the superior type of caliper, they do have some downfalls. For one they can be difficult for some people to read. Some people have trouble figuring out how to read the measurements while others have trouble visually reading them.
I say go digital for your calipers but it you must go old school, here is how Starrett and Mitutoyo stack up with their vernier calipers.
Starrett 125MEA-6/150 Vernier Caliper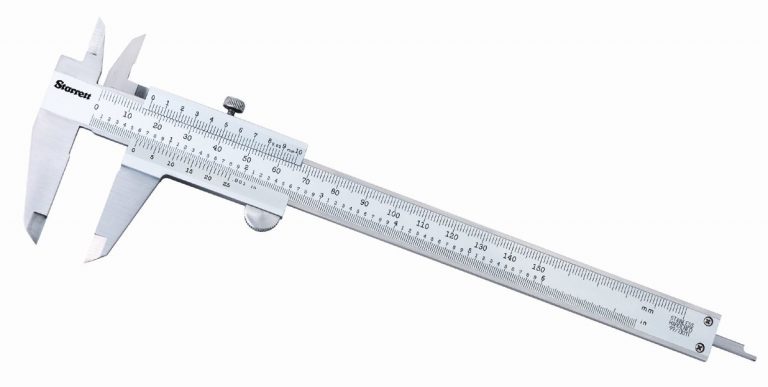 Features:
Made of hardened stainless steel
6"/150mm measuring range
Accuracy from 0-4" is +/- 0.001"
Accuracy from 4-6" is +/- 0.0015"
Mitutoyo 530-316 Vernier Caliper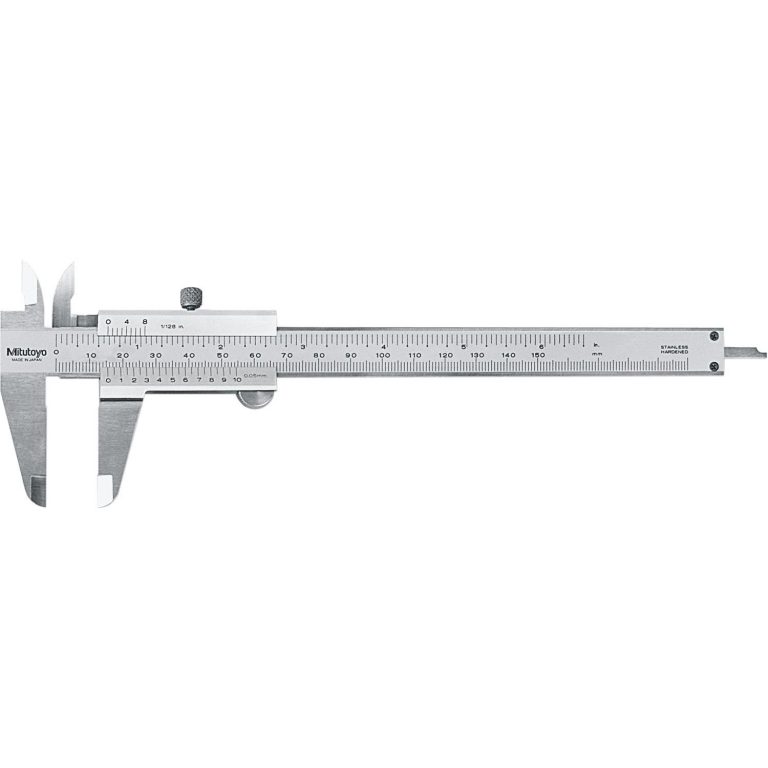 Features:
Made of hardened stainless steel
6"/150mm measuring range
Accuracy of +/- 0.002"
Accuracy rules all when it comes to measuring tools and vernier calipers are no different. Starrett wins with double the accuracy and an included protective case as well.
I would still advise thinking about getting a set of digital calipers and maybe keeping some extra batteries on hand so you know they will be ready when you need them. Digital calipers are just infinitely faster and easier to read.
Micrometers are made for checking extremely precise measurements. Many models are capable of checking tolerances of 0.0001" or better. That is 10x more accurate than a good caliper!
The downfall is what they gain in accuracy they lose in versatility. While a normal set of calipers can measure inside, outside and depth measurements from 0-6", a micrometer will measure only one type of measurement and only over a 1-inch measuring range.
Starrett 436.1XRL-1 Standard Micrometer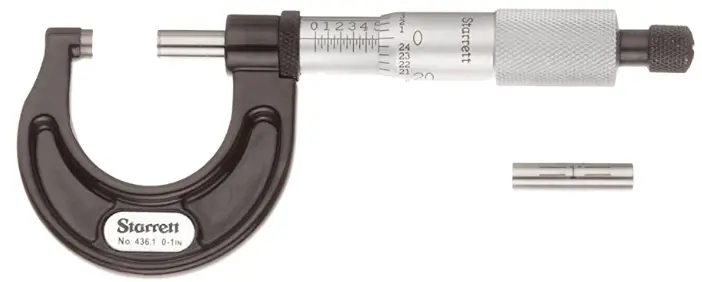 Starrett's micrometers are what they are most known for. They have been making them, and making them well for a very long time.
Features:
Narrow frame for measuring in tight spaces
Black enamel protective finish
Accuracy of +/- 0.0001"
Ratchet stop
Mitutoyo 103-177 Standard Micrometer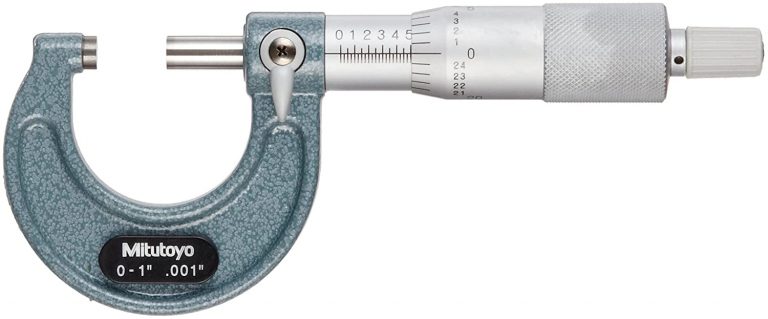 Features: 
Blue protective enamel finish
Accuracy of +/-0.0001"
Ratchet stop
Once again, we see similar features from both manufacturers. This is to be expected as these are standard specs for a 0-1" micrometer.
One item to note is that the micrometers from both Starrett and Mitutoyo will be the same even as their sizes get larger. Expect a very similar product from both in their 5-6" micrometers and so on.
Even though they are similar, Starrett wins this category for multiple reasons. Their protective finish is nice and, in my experience, more durable. Their protective case is much more rugged, and their ratchet stop mechanism is smoother. That isn't to say that the micrometer from Mitutoyo is bad, it just misses the mark compared to what Starrett produces.
Digital mics are able to perform the same type of work as a standard micrometer. They add on an easy-to-read LCD display and depending on the model, they can allow the output of measurement data.
Often digital micrometers are the top tier tools and therefore have excellent accuracy, but they do tend to be a bit bulkier than a standard micrometer which can make them a little more awkward to use. Most won't notice a huge difference but if you are planning to do a lot of one-handed measurements then you might want to stick with a lighter micrometer.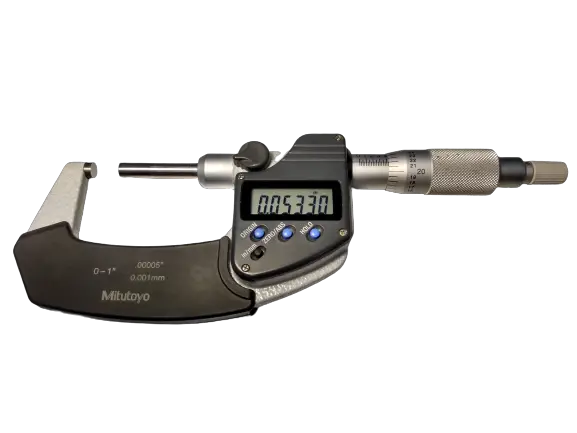 I'm going to skip right to the chase and tell you that Mitutoyo hands down makes the best digital micrometers.
I don't mean Starrett's digital mics are bad, Mitutoyo is just that good.
They are extremely accurate and will measure down to +/- 0.00005". That's a lot of zeroes! Starrett's digital micrometer is half as good. We know accuracy is huge when it comes to measurement, but the Mitutoyo's also have a better ratchet stop to help get the most out of that accuracy whereas the Starrett mic has a friction thimble.
Personally, I have found friction thimbles to be slightly less accurate and not be as consistent over time (like 10 years, but still).
Lastly, the Mitutoyo digital mic has the same super long battery life as their digital calipers. Don't plan on changing the battery or my mind anytime soon. Mitutoyo digital micrometers for the win!
Both Starrett and Mitutoyo make excellent measuring tools of all kinds. You honestly can't go wrong with either one, but if you were paying attention then you may have noticed a pattern.
If you want the absolute best in category, then go with Starrett for your analog measuring tools and Mitutoyo for your digital options I guarantee you won't be disappointed.